Argentine top union leader back-peddles in inflation controversy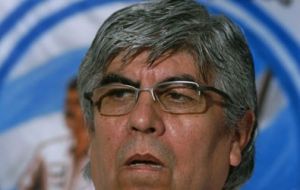 "Inflation in a growing country is good" said Hugo Moyano Argentina's leader of the powerful labour unions confederation, CGT, a day after having openly complained that "inflation in Argentina is a fact, and nobody can deny it's a reality".
Moyano's original statement clashed with that of Economy Minister Amado Boudou who admitted "prices' tension, but not necessarily inflation". The close political ally of President Cristina Fernandez de Kirchner and Argentina's strong man, her husband Nestor Kirchner, went further arguing that "we've never denied the existence of inflation" he explained adding that "even the INDEC statistics bureau says inflation has doubled lately, so that should not come as a surprise to anyone".
The teamsters' union leader stated that "in a growing country, inflation isn't harmful and it's normal".
Moyano went on to say he didn't know why his comments had caused such a controversy. "I've said this more than once. If inflation is calculated by taking prices from general products, it will be higher. What we do is take prices from the basic food basket products because it helps us discuss salary rises."
However, he then explained that there are some price hikes on food products that "aren't normal" because they add seasonal instead of general products to the calculation.
"During the last economic crisis, countries dealing with deflation had to deal with massive job losses. However, there were none in Argentina," he said, and added that "sometimes, when inflation is under control, it is a lot better than losing jobs."
He then assured that "inflation in Argentina is under control," and that, although "there may be some increase in prices, there hasn't been any extreme hike that leads us into disaster, and I don't think there will be."
After the controversy caused by his statements earlier this week that seemed to contradict Economy Minister Amado Boudou's views on inflation, he clarified that "he has a good relationship with the Minister," and explained that "there was no controversy, just different appreciations of the same issue".
Argentina's inflation in 2009 was estimated anywhere between 15 and 22%, by private consultants and economists, while for the "creative accountancy" of the official statistics office. Indec, consumer prices last year were below 10%. Estimates for 2010 are that it could easily reach 30% given the growing expectations.