Falklands deployed HMS York celebrates 25 years at sea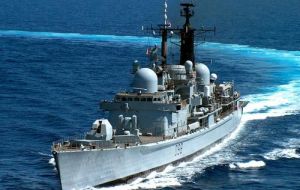 HMS York, the Portsmouth-based Type 42 destroyer and currently patrolling the Falkland Islands as part of her South Atlantic deployment is celebrating her 25 years at sea. She was accepted into service on March 1985.
To mark HMS York's special day, the ship's company is celebrating with a cake and candles as a special toast to her silver anniversary.
"To be in command of this fine old lady, the 12th warship to proudly wear the name York is a rare privilege indeed" said Commanding Officer Commander Simon Staley.
"She may be 25 years old, but to know I drive the fastest destroyer in the fleet, and that we still pack a significant punch via missiles and guns, gives great heart. The ship's company are really terrific too, and display all the grit, character and pride synonymous with the fine people of Yorkshire", added the Commander Staley.
HMS York sailed for the South Atlantic at the end of November last year, visiting Gibraltar and Rio de Janeiro en route. While in Rio, the ship's company did some much-needed building work at an orphanage for abandoned street children, and brightened up their festive season with Christmas presents and decorations.
After arriving at the Falklands, the destroyer has been on patrol with other Royal Navy vessels, conducted an exercise with a French naval task group, demonstrated naval gunfire support for an infantry company, given Army and RAF colleagues a day on board ship and helped in the rescue of a sick trawler-man.
But this was a week for celebration, as Commander Staley said: "We will have cake and candles, and I will toast her very happy birthday – I hope you will find time to do the same".
The present HMS York is the 12th to bear the name, which is one of the oldest ship names in the Royal Navy. Launched on 20 June 1982 at Wallsend, she was accepted into service on 25 March 1985 and commissioned on 9 August 1985 at Rosyth her base port at that time. Now she is based at Portsmouth. Her funnel badge, a red cross with lions passant is from the coat of arms of the City of York. The ship's crest is the White Rose of York. The motto 'Bon Espoir' means 'Good Hope' and her sponsor is Lady Gosling.