Gap between rich and poor in Latinamerica is largest in the world, says UN
Saturday, March 27th 2010 - 06:38 UTC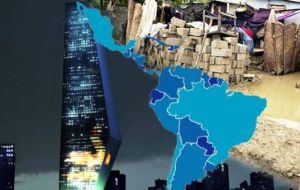 The gap between the rich and poor in Latinamerica has not ceased to increase in the last decades and currently 20% of the wealthiest hold 56.9% of resources, while the region's main cities host 127 million people, according to the latest report from United Nations-Habitat.
Income for the poorest 20% of Latinamerica is merely 3.5% of the full cake which makes the continent the most unequal in the world says a report released this week during the World Urban Forum being held in Rio do Janeiro, Brazil.
"The country with least inequality of income in Latinamerica has the highest inequality of any Organization for Economic Cooperation and Development, OECD, country member, including all the east of Europe", points out the document.
Brazil is the most outstanding since 10% of the richest absorb 50.6% of all income compared to the 0.8% going to the poorest 10%.
Mexico follows in the list of inequality, since the top 10% dominate 42.2% of income compared to the 1.3% for the poorest 10%.
Argentina figures in third place with 41.7% of income going to the top 10% richest and 1.1% for the bottom 10%.
In Venezuela the equation is similar: 10% have 36.8% and the bottom 10%, 0.9%. If the top 30% are taken into account income soars to 65.1%.
In Colombia, 49.1% is taken by the top 10% and 0.9% for the bottom 10%. Chile's equation is 42.5% and 1.5%. Strangely enough Nicaragua, Panama and Paraguay stand out as "more equal" even when the top rich take 40%.
Urbanization on the other hand has not helped to contain poverty, rather the contrary: in 1970, 41 million poor people lived in Latinamerican cities (27%) and in 2007 the number jumped to 127 million which is equivalent to 29% of urban population.
However the UN-Habitat report points out that "…in smaller cities and certainly in rural areas of Latinamerica population is even poorer and living conditions more miserable".
Rural poverty in Brazil is extensive to 50.1% of the rural population; in Mexico, 40.1% and in Peru, 69.3%. At the other extreme comes Chile with a rural poverty index of 12.3%, which is even lower than in urban areas.