Spanish minister defends Gibraltar friendly-approach policy before Congress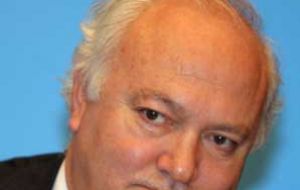 Spain is defending its interests in relation to Gibraltar "firmly and efficiently" Spanish Foreign Minister Miguel Angel Moratinos declared in a special session of Congress in Madrid. But he also underlined Spain's commitment for police and judicial co-operation to stamp out crime in the area.
According to the Gibraltar Chronicle, the remarks came in response to a question from the opposition Popular Party 'Gibraltar' MP Jose Ignacio Landaluce in relation to the Civil Guard's ability to police the Bay of Gibraltar.
Moratinos declared that he defends "the interests of Spain and the Spanish people and, logically, the claim over Gibraltar." He said that the ruling PSOE's approach had produced better results than any PP predecessor.
Moratinos insisted that the relations with Gibraltar reflect a "system of working" appropriate for the 21st century in which the Spanish executive bats for "the interests of the Spanish people, the Spanish waters around Gibraltar and the best environment for all to live, both in Spain and, of course, in Gibraltar".
Moratinos is a strong promoter of the tri-partite talks (UK, Spain, Gibraltar) and has been the first Spanish minister to visit the Rock.