The Times and Sunday Times to begin charging for news on-line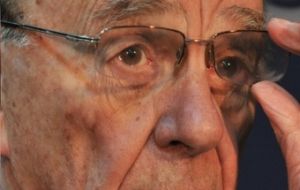 News Corp will charge readers for online versions of its UK Times and Sunday Times newspapers from June, becoming the first media firm to test consumers' appetite to pay for mass-market news online.
Access to two new websites for the two titles will cost 1 pound ($1.49) per day or 2 pounds for a week. Subscribers to the print versions will get free access, News Corp said on Friday.
"This is just the start," said Rebekah Brooks, chief executive of News Corp's British newspaper unit News International which also publishes the Sun daily tabloid and sister paper The News of the World on Sundays.
"At a defining moment for journalism, this is a crucial step toward making the business of news an economically exciting proposition," she said in a statement.
Newspapers in Western Europe and the United States have been battered by the recession while fighting a structural shift in their business from paid-for newspapers to largely free news on the Web.
Two business newspapers -- the Financial Times and News Corp's Wall Street Journal -- charge readers for online access but consumer publications have so far not followed, fearing a massive loss of readers.
News Corp chief executive Rupert Murdoch has become a kind of champion of paid-for online news, saying Internet giant Google has deprived the industry of revenue by making news articles searchable for free.
In January, The New York Times said it would start charging readers for access to online articles from next year, acknowledging that advertising revenues were unlikely to be able to fund its journalism in the future.
The editors of the Times and Sunday Times promised interactive features to get readers more involved, personalized news feeds, and coming versions for phones, e-readers, tablet computers and other mobile devices.
The Times and the Sunday Times will launch new, separate websites in early May, which will be free to registered customers for a trial period.
The print version of the Times costs 1 pound on weekdays and 1.50 pounds on Saturdays, and the Sunday Times costs 2 pounds.