First gay marriage in Westminster: groom was Foreign Office minister Chris Bryant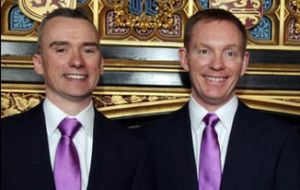 The Palace of Westminster, which houses the British Parliament, was on Saturday the venue of an unprecedented event: its first gay wedding.
The groom was Europe Minister Christ Bryant who married his partner Jared Cranney, a company secretary, in a ceremony attended among others by the Commons Speaker John Bercow.
Until now, gay MPs were not allowed to hold weddings within Parliament building but Mr. Bercow obtained a special license from the Westminster City council to break that tradition paving the way for gay members of the general public also to hold similar ceremonies there.
The couple said they had "never thought this day would come''.
"It's amazing how much things have changed in such a short time. Only a few years ago there was a different gay age of consent, you could sack people or refuse to serve them just because of their sexuality and gays were banned from the military, from adopting or getting married. Parliament is special because it has made it possible. We are delighted that everyone in the U.K. can now share in a privilege that used to be available just to straight MPs" they said in a statement.
After the ceremony, held in the members' dining room with a scenic view of the Thames, Mr. Bercow hosted a drinks party followed by a reception.
Mr. Bryant is the second Minister, after Culture Secretary Ben Bradshaw, to enter into a civil partnership since gay marriages became legal six years ago under the Civil Partnership Act 2004.