Malvinas Families Commission founder resigns: he was Army spy (1981/1983)
Monday, March 29th 2010 - 04:38 UTC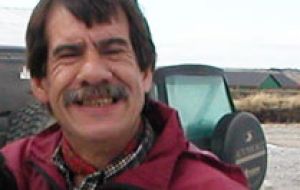 Hector Cisneros has resigned as president of the Malvinas Families Commission three days after it was revealed by a Buenos Aires newspaper ("Critica") that he had worked for Argentine military intelligence during the last dictatorship (1976/1983).
The Malvinas Families Commission formalized his resignation, and replacement, which had been decided last Friday over the weekend. He was replaced as acting president by his deputy Delmiara del Cao.
The name of Cisneros surfaced in a list of 4.300 agents, civilians and military that worked for the notorious Batallion 601, the Argentine Army's intelligence branch, and which was declassified last year. According to the documents Cisneros worked from 1981 to 1983 as head of support and data processing, with the specific task of classifying reports collected by different agents.
While working for the Army he founded the Families Commission of the fallen in Malvinas, three months after the June 1982 defeat of the Argentine troops by the British Task Force sent to recover the Falklands by then Prime Minister Margaret Thatcher.
The NGO commission took the task of organizing the several next of kin trips to the Darwin Cemetery in Falklands where the remains of Argentine soldiers killed during the fighting with the British were laid to rest.
Malvinas veterans claim Cisneros was always against searching for the truth and human rights violations committed by Argentine officers during the conflict.
"He was always against investigating human rights violations linked to Malvinas and against DNA tests to identify the bodies buried in the Argentine cemetery in Darwin", said veteran Ernesto Alonso, quoted by the Argentine press.
Each Argentine grave in Darwin has a white cross and a plaque which reads, "Argentine solider, only known to God".
However, on confirming the resignation of Cisneros, the Malvinas Families Commission said that the decision for the remains to stay in Darwin "was a unanimous decision from the fallen in Malvinas next of kin", adding that there are "no unidentified among the fallen, they all have been thoroughly identified".
Furthermore, "genetic probes have been rejected by relatives because they would be senseless and a repeat of unnecessary sufferings".
According to the Buenos Aires press the fact that the name of Cisneros was released came as a surprise since the former president of the Malvinas Families commission was considered a "Kirchnerite", and as such was often pictured next to President Cristina Kirchner.
The Argentine press also anticipates that making public a list of former intelligence service agents (even from the time of the last dictatorship) could entail further surprises, since several rules were broken, most important "disclosing names".
Apparently "former spies" claim the 4.300 name list was "white-washed" so many of the deleted names could "unexpectedly" surface as the controversy advances. Besides, defence issue reporters say the list was made with names delivered, on request from the Argentine Defence ministry, by the Army and Air Force, but the Navy still has to comply with the instructions.