Latest strike by cabin crew cost British Airways £ 5 million a day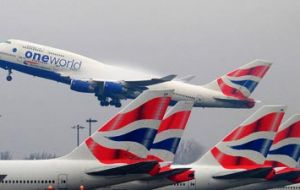 British Airways has said that the latest strike by cabin crew has cost them £5.5m-a-day - down from £7m for the first walkout. The airline claims it carried 118,575 passengers in total over Saturday and Sunday compared to 86,262 the last weekend.
It comes as the union behind the action announced it will raise £700,000 to support the striking cabin crew. Unite said the funds will come from a proposed "unprecedented" 2% levy on members, which has been approved by the general executive.
The money will go on strike pay and other ways of supporting their members during the industrial action. Officials said it showed the union's resolve in continuing the bitter row over jobs and cost-cutting, which has cost the airline millions of pounds.
The move comes as UK press sources say British Airways flew more than 119,000 passengers amid the cabin crew strike action over the weekend. The figure was an improvement on the previous weekend's service, when the airline flew just over 86,000 customers on around 730 flights.
But BA has been accused of paying a high price to continue its service, namely by employing the world's "most expensive cabin crew" to cover those striking. Unite union accused the firm of paying hundreds of pilots, £166-an-hour to cover cabin crew shifts.
It said the pay met the rate of their usual high flying salaries - said to be up to £120,000. Unite contrasted the pay with the salary of cabin crew, which it said was £15,000 a year, or £16 per hour, after five years' experience.
The claim signalled another round in the war of words between the two sides as cabin crew entered the third day of a four-day walkout in a bitter row over jobs and cost-cutting.
BA has said it is flying a full schedule at Gatwick and London City airports as well as increased services from Heathrow. From Gatwick, chief executive Willie Walsh has issued an 'operational update' on YouTube.
But the union has warned of further industrial action if the dispute is not resolved in the next few weeks. Unite said no further action will be taken before April 14, giving a window of opportunity for fresh talks.