Lula da Silva unveils massive four year infrastructure program
Tuesday, March 30th 2010 - 04:31 UTC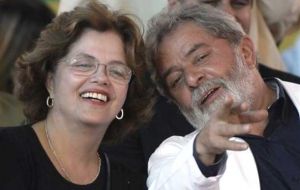 Brazilian President Luiz Inacio Lula da Silva announced Monday an 886 billion US dollars infrastructure investment plan that would be carried out by his chosen successor, Cabinet Chief Dilma Rousseff, should she win the October presidential election.
The plan, the second stage of Lula da Silva's Growth Acceleration Program, PAC, will help Brazil expand an average 5.5% a year through 2014, Finance Minister Guido Mantega said. The proposal calls for public and private investments of 959 billion Reais (534 billion USD) between 2011 and 2014 and 632 billion Reais after 2014, Mantega said.
Lula da Silva announced the plan, known as PAC 2 at a ceremony also attended by his cabinet chief. Rousseff is in second place in national presidential polls, trailing Sao Paulo state Governor Jose Serra.
"This is a purely political move" said Bolivar Lamounier, a partner at Sao Paulo-based Augurium Consultoria, a political analysis company. "I believe the government conducted researches to assess the political gains this announcement could bring or it wouldn't have announced it with such pomp".
Rousseff who is not only cabinet chief but coordinator of the PAC initiatives said in her speech that the program wasn't driven by political interests. The infrastructure plan seeks to boost economic and social development, she said.
The second round of PAC forecasts 220 billion Reais in public investments, which may include tax cuts similar to those implemented last year on purchases of cars and appliances, Mantega said. Brazil's solid fiscal policy will help sustain the spending, and it won't threaten the government's goal of posting a budget surplus in 2013, the minister said.
"PAC 2 will probably continue on the same track, with new tax incentives to stimulate production in the country and boost domestic demand," Mantega said.
The plan hasn't been approved by Congress and the country's new president won't be obligated to carry it out. Under the measure, urban development programs are slated to receive 278 billion Reais, including funds to build 2 million homes for low-income people.
The government plans to invest 105 billion Reais in transportation infrastructure such as new roads and ports, according to the document. Investments in railroads are slated at 46 billion Reais, and include studies for three new high- speed trains connecting the cities of Sao Paulo, Curitiba and Belo Horizonte.