Relief in European Union: Greece manages to take 5 billion Euros in 7 year bonds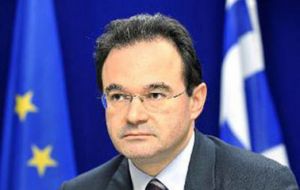 Greece on Monday took five billion Euros with a seven-year bond just days after being given a lifeline by the European Union to help resolve its unprecedented debt crisis but analysts noted timid demand for the offer.
"We have shown that we can issue all sorts of maturities and at more logical rates than previously" Greek Finance Minister George Papaconstantinou told state television NET.
"We needed to go on the market urgently to draw funds (to meet) our loan needs for April and May given that markets shut down for around a week for Easter," he said.
"Now we have passed the April hurdle and have only May to deal with" he said. Greece needs to borrow 11.5 billion Euros in May, NET said.
The Greek debt management agency said it had offered a coupon rate of 5.90% on the five-billion-Euro bond with an issue price of 99.428, adding that the yield difference over German bond mid-swaps was 310 basis points.
Previous Greek bond issues this year had drawn much higher demand. In early March, a 10-year bond attracted offers totalling 16 billion Euros.
Finance minister Papaconstantinou deemed the exercise a success. "I am satisfied," he said, adding that the yield gaps between Greek and benchmark German bonds -- known as spreads -- will "de-escalate gradually."
"I think it would be a major error to believe that spreads would collapse a few days after the decisions taken by the EU summit and the ECB," he said.
The debt management agency did not give an effective yield -- the amount of interest Greece must actually pay to buyers of the bonds -- but a price of 99.428 at 5.90% would translate into a return of some 5.94%.
Greece has struggled to lower its borrowing costs for months after having to offer rates over 6% to attract investors in its last two bond issues that brought in 13 billion Euros.
In late trade on Monday, 10-year Greek bonds were yielding 6.289%, up from 6.193% on Friday. These rates are still about twice those which Germany, the strongest economy in the Euro zone, pays to borrow for 10 years.
Greece needs to raise 54 billion Euros in loans over the year and its total debt is nearly 300 billion Euros.
Athens had called on the European Union to offer some form of lifeline to bring down the rate it had to pay to buyers of its bonds.
That pressure deepened into a crisis within the EU amid fears that other weakened economies such as Portugal or Spain could suffer next.
Last week, Brussels agreed on an unprecedented contingency plan which would also involve the International Monetary Fund.
The head of the IMF, Dominique Strauss-Kahn -- who was France's finance minister when the euro was created in 1999 -- on Monday noted that the Euro zone's woes have exposed a glaring lack of coordination and enforcement in the 16-nation currency union.
"This is certainly a very important test of the viability of the Euro zone," Strauss-Kahn said in a debate with an audience of government and financial officials during a visit to Poland.
The Euro had fallen during the weeks prior to the European agreement, but has rallied since. The currency rose by 0.7% on Friday and was up 0.26% to $1.34450 on Monday.