US Treasury planning to sell 27% stake in Citigroup during 2010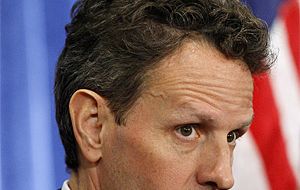 Citigroup Inc.'s largest shareholder, the US Treasury Department, is planning to sell its 27% stake this year in what could become the biggest profit for the bank-bailout program.
The Treasury will dispose of its 7.7 billion common shares of New York-based Citigroup over the course of 2010 using a "pre-arranged written trading plan," the agency said in a statement. The Treasury's stake had a market value of 32.2 billion US dollars as of Monday's closing price, for a paper profit of 7.2 billion USD.
The sale would finish the recovery of 45 billion given to Citigroup from the Troubled Asset Relief Program and bring the Treasury closer to US President Barack Obama's goal of recouping "every single dime" of taxpayer money put into the bank-rescue fund. Citigroup, ranked third by assets among U.S. lenders, took infusions from the 700 billion USD TARP fund in late 2008 as waning confidence almost triggered a run by depositors.
The Treasury hasn't made any projections about profits from the sale, which will be an "at-the-market offering," Meg Reilly, a spokeswoman for the Treasury, said in an e-mail. Morgan Stanley is advising the Treasury on the sale, and the contract with terms of the agreement will be posted within 48 hours, Reilly wrote.
The announcement "is good news for the taxpayer and further proof that the Troubled Asset Relief Program worked as intended," Senator Judd Gregg, a New Hampshire Republican, said in a statement Monday.
The Treasury plans to sell a specific share of Citigroup trading volume on a regular basis without trying to time the market, Treasury Secretary Timothy F. Geithner said in an interview on CNBC. "We don't want to be in the business of owning a share in a private company a day longer than necessary," he said.
Last September, the Treasury converted 25 billion USD of its Citigroup holdings into common shares at 3.25 USD each. Citigroup repaid the remaining 20 billion in December, and the Treasury agreed to hold off selling the common shares for 90 days. That lockup expired March 16.
Citigroup has cut the size of Citi Holdings, the portfolio of businesses and assets Citigroup Chief Executive Officer Vikram Pandit has tagged for disposal, by 351 billion since the first quarter of 2008. The bank plans to move another 61 billion of assets from Citi Holdings to Citicorp this quarter.
The plan announced yesterday doesn't include trust preferred securities or warrants for Citigroup's common stock. The government owns 5.3 billion USD in Citigroup trust preferred securities yielding 8% annually as well as warrants that allow it to buy the bank's stock. It also holds warrants to buy more common stock, which the Treasury demanded from TARP recipients to compensate taxpayers for the risk of providing bailout funds.