Analysts doubt Argentina can sell global bonds at one digit interest rate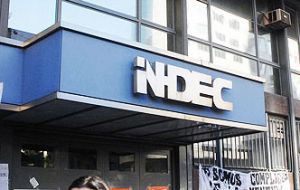 Argentina's accelerating inflation and deteriorating finances will undermine President Cristina Fernandez de Kirchner's goal of selling global bonds with an interest rate below 10%, said Silvia Marengo who helps manage 500 million USD of debt at Falcon Private Bank in Zurich in a report compiled by Bloomberg.
Mrs. Kirchner is seeking funds to help cover a budget deficit that RBS Securities Inc. said will more than double to 1.4% of GDP this year from 2009. Inflation will top 20% this year, the highest in the region after Venezuela, because of "extremely lax fiscal and monetary policies," said Alberto Ramos, an economist at Goldman Sachs Group Inc.
The government plans to tap global credit markets for the first time since its 2001 debt default after reaching a restructuring accord with holders of about 20 billion USD of bonds. Economy Minister Amado Boudou, who vowed last week to give defaulted debt holders a final offer by mid-April, said that the government will sell bonds at a "single digit" interest rate after an agreement is reached.
"To make the bonds attractive, Argentina will have to pay more than 10%," Marengo said. "The 2001 debt default, quickening inflation and not very reasonable economic policies all have a price."
The last country to sell bonds yielding over 10% was Indonesia, which in February 2009 sold 2 billion USD of 10-year bonds to yield 11.75% and $1 billion of five-year bonds to yield 10.5%, according to data compiled by Bloomberg. Indonesia has a BB rating on its long-term foreign currency debt from Standard & Poor's, four levels above Argentina's B- rating.
Marengo and former deputy Economy Minister Jorge Todesca said the Argetnine government will likely have to pay about 12% on any new bonds. Argentina's dollar bonds due in 2015 and 2033 both trade at yields above 11%.
"Argentina is a risky market and that will make investors demand a higher yield" said Todesca.
Argentine government spending rose 32% in February from a year earlier to 27.3 billion pesos (7.1 billion USD) while tax revenue climbed 28% to 28.5 billion pesos, the Economy Ministry reported.
Spending will keep rising faster than revenue as Mrs. Kirchner seeks to bolster her popularity ahead of elections in 2011, RBS economist Boris Segura wrote in a March 25 report.
Legislators from cash-strapped provinces are demanding the federal government share more of its revenue from the country's financial transactions tax to help them pay teachers and finance public works projects, a move Mrs. Kirchner says would "de- finance" the central government.
Mrs. Kirchner has insistently argued that government spending cushioned Argentina's 330 billion USD economy from the global financial crisis, boosting domestic demand and helping companies pay salaries. GDP expanded 0.9% in 2009, down from 6.8% the previous year, according to government data.
Economists and politicians including Vice President Julio Cobos have questioned the government's economic data since January 2007, when then-President Nestor Kirchner began changing personnel at the statistics institute. Morgan Stanley economist Daniel Volberg said in a March 22 report that the economy shrank about 4.5% last year.
With the government's finances tightening, the administration of Mrs Kirchner has moved to tap 6.6 billion USD in central bank reserves to pay debt due this year, saying that her government won't sell bonds "at just any interest rate" and ruling out a cut in spending and in subsidies.
"We can't avoid paying Argentine debt that was issued by previous governments," President Cristina Kirchner said in a March 20 speech. "What Argentina can't do is to make the society, the pensioners, the teachers pay for that".
However the use of reserves to pay down debt poses a "downside" risk to the country's rating, Fitch Ratings analyst Casey Reckman said early March 2. "Argentina should be reducing debt by cutting government spending". Fitch has a B- rating on Argentina, six levels below investment grade, putting the country in the same category as Ecuador and Jamaica.