Former Defence minister leads in Colombia's presidential May election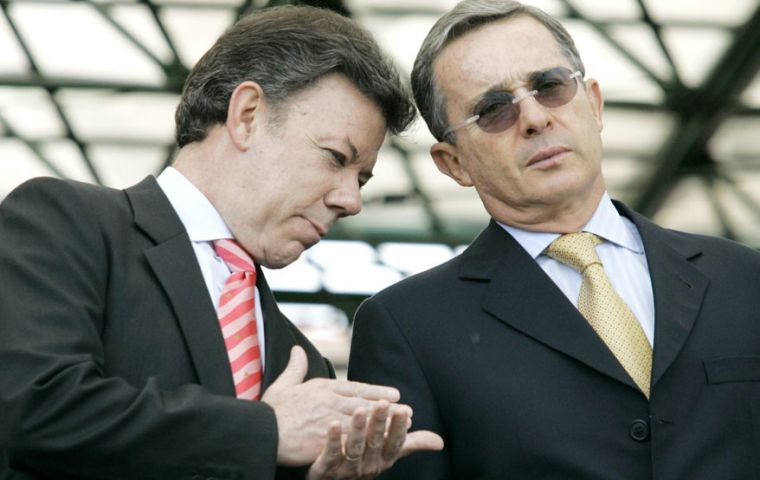 According to the latest poll by Ipsos-Napoleon Franco published by Colombian newspaper Semana over the weekend, the former Defence minister in President Alvaro Uribe cabinet, Juan Manuel Santos, is clearly ahead in the presidential polls with 36% vote intention.
However the polls also indicate that Santos may not win the election outright in the first round on May 30th and could be forced to a run-off.
Former ambassador Noemi Sanin (conservative), who like Santos is also politically associated with President Uribe, is in second place in the polls with 17%.
While it is still too early to call a winner, Santos' jump in popularity is remarkable: in an earlier poll only 23% of Colombians said they would vote for him versus the current vote intention of 36%. Sanin also moved up in the polls, more than tripling to 17% from only 5% a month ago.
Both candidates have promised to continue with Uribe's "democratic security" (hard line) policies that have helped push back guerrillas, drug lords and crime. US aid and sophisticated equipment has been crucial in having the guerrillas on the run after they held almost 20% of Colombian territory.
In a potential second round between Santos and Sanin, the poll indicates that voters would support him with 44% of the vote against 30% for Sanin.
Colombia fiscal policy is likely to remain unaltered under Santos or Sanin. If Santos wins, pundits believe that Juan Carlos Echeverry, former planning director and economist for Latin Source, will likely be appointed to the Finance Ministry.
Sanin would likely appoint Alberto Carrasquilla, a former finance minister under president Uribe.
According to the poll, third place is tied between the candidate of the Green Party -- former Bogotá Mayor Antanas Mockus -- and another candidate associated with President Uribe -- from Cambio Radical, German Vagas LLeras.