High-quality oil in once guerrilla infested Colombian jungle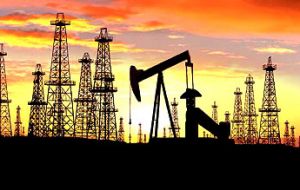 Petrominerales Ltd., mostly owned by Canadian companies said Monday that an oil well drilled in Colombia has produced a prolific 15,600 barrels of high-quality crude per day, following similarly strong results from two other wells on its Candelilla discovery.
"Candelilla is a very big discovery. We don't know how big yet," said Frederick Kozak, a Canaccord Adams analyst who focuses much of his research on Colombia.
Petrominerales is two-thirds owned by Calgary-based Petrobank Energy and Resources Ltd. The Candelilla-3 well in central Colombia boosts total production from the discovery to 38,700 barrels per day.
"Total company production now exceeds 53,000 (barrels of oil per day), generating strong cash flows, and enabling the company to easily fund its exploration program while leaving the balance sheet in a very healthy state," wrote UBS Investment Research analyst George Toriola in a note to clients.
Petrominerales has 14 exploration blocks covering a total of 728,000 hectares in Colombia's Llanos and Putumayo Basins, and one million hectares)in the Ucayali Basin of Peru.
"Petrominerales has a great set of assets. They've got a lot of exploration upside," said Kozak. "They're certainly having great success with both the Corcel blocks and with this adjacent block where they've drilled Candelilla".
Colombia and Peru also boast the most attractive fiscal regimes for oil and gas firms active in South America, Kozak said.
Production agreements with the Colombian and Peruvian governments have also been predictable, enticing companies like Petrominerales, Talisman Energy Inc., Gran Tierra Energy Inc. and Pacific Rubiales Energy Corp. to spend their money there.
Over the past decade, Colombia has become a much safer country in which to do business than it had been previously, with a more pro-business government than some of its South American neighbours. As a result, development of its energy resources has grown significantly over a short period of time.
"It's because literally this was a part of the country that had not been explored or developed for 20-odd years. And now it's safe to do so," he said.
One drawback of operating in Colombia is that the infrastructure has had trouble keeping pace with development - though the industry is working on how to resolve that problem.