Putin's visits Venezuela Friday, sets alarm bells ringing in Washington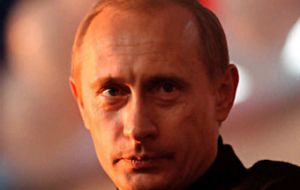 Russian Prime Minister Vladimir Putin will pay his first visit to Venezuela to meet with President Hugo Chavez on April 2, a government source told RIA Novosti in Moscow on Wednesday.
Putin plans to participate in delivering the final four Mi-17 Hip helicopters that Caracas had ordered in 2006, thus finalizing the military contract. The contract stipulated the delivery of 38 helicopters.
The Russian premier will lay the cornerstone of a new Russian Orthodox cathedral to be built in the Venezuelan capital.
Putin will also meet with Bolivian President Evo Morales in Venezuela on Friday. Issues of cooperation in gas and energy, as well as other international issues will be discussed during the meeting, the Moscow government source said. Chavez last visited Moscow in September 2009.
The trip has again rattled Washington which sees Russia's presence in South America's top oil exporter with concern, particularly President Chavez increasing interest in Russian military hardware.
"We should expect a lot of big arms and energy contracts. When Putin has travelled recently to centres like India he brought back a lot," said Fyodor Lukyanov, editor of the magazine Russia in Global Affairs.
"It is always a good chance for Putin to show to the United States that we have a lot of friends all over the world."
Putin secured $10 billion in energy, nuclear and arms deals in India this month and Russia is offering New Delhi a role it its energy projects, Russian military hardware and its nuclear reactors, amid rising competition from French and US firms.
"It is an opportunity to advance cooperation in the fields of energy, industry, agriculture and defence, among others," Venezuela's foreign ministry said ahead of the visit. Chavez travelled to Moscow in September to receive over 2 billion USD in loans for weaponry, including tanks and the S-300 advanced anti-aircraft missile.
During the trip he announced Venezuela recognised two pro-Russian rebel regions of Georgia as independent states, a rare diplomatic success for Moscow, which has tried unsuccessfully to persuade its allies to do so.
US Secretary of State Hillary Clinton has called Russian, Iranian and Chinese economic and political gains in Latin America disturbing after failed attempts by the previous US administration to isolate Venezuela and Bolivia.
"Russia sees the strengthening of its positions in this region as an extremely important and a good answer to the widening US influence in Central Asia," said Alexei Mukhin, who directs the Moscow-based Centre for Political Information.
In February, a consortium of Russian firms and Venezuela's state-run PDVSA agreed to set up a venture to tap the Junin 6 oil field in the Orinoco oil belt, which Venezuela says has the world's largest hydrocarbon reserves
The development will require 20 billion in investments over 40 years to produce 450,000 barrels per day, or almost a fifth of Venezuela's current oil production, and will involve state giant Rosneft and private major LUKOIL.