Chavez announce rainfall in central Venezuela will help reverse energy crisis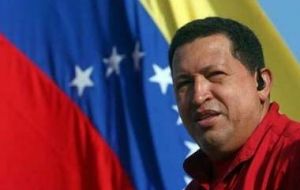 Heavy downpours that have swept away two people and flooded homes in central Venezuela were hailed by President Hugo Chavez as an early start to the rainy season that may mark the end of an extended electricity crisis.
Chavez's popularity has been eroded since a severe drought exposed problems in the country's hydro-dependent grid and led to strict power and water rationing.
"The rains have officially arrived" Chavez said at a ceremony to mark the visit by Uruguay's President Jose Mujica.
The National Weather Institute, however, said the recent rains were due to a temporary weather pattern and that the rainy season would not start for another month.
Water levels at the hydroelectric dams have dropped to critically low levels amid the worst drought in a century, which is blamed on the El Niño weather phenomenon.
The power shortages and rationing could boost opposition prospects in legislative elections in September that will be a curtain-raiser for a 2012 presidential election.
Television images showed people wading in thigh-high water. Light rainfall cleared the skies in the capital Caracas, where forest fires have filled the air with smoke for weeks.
But attention was fixed on Venezuela's largest reservoir, the Guri, where the water level was only 9.5 metres above one of the dam's main turbines. Authorities have said flows from the dam would have to halt if water fell to that level. That could knock out the national grid.
Chavez, who has accused his opponents of sabotaging some power plants, said the recent rain had increased river flows in the southern state where El Guri is located and that the government's energy- and water-rationing were working.
Venezuela depends on hydro generation for more than 70 percent of its power, and the shortages are jeopardizing its ability to emerge from recession. The government says fears of a collapse are unfounded.
Since December, the government has put in place energy-saving measures, and light industry and businesses have been told to slash electricity use by 20% or face being cut off -- even as Venezuela's economy suffers a recession that led to gross domestic product shrinking 3.3% last year.