China allows unloading of Argentine soybean oil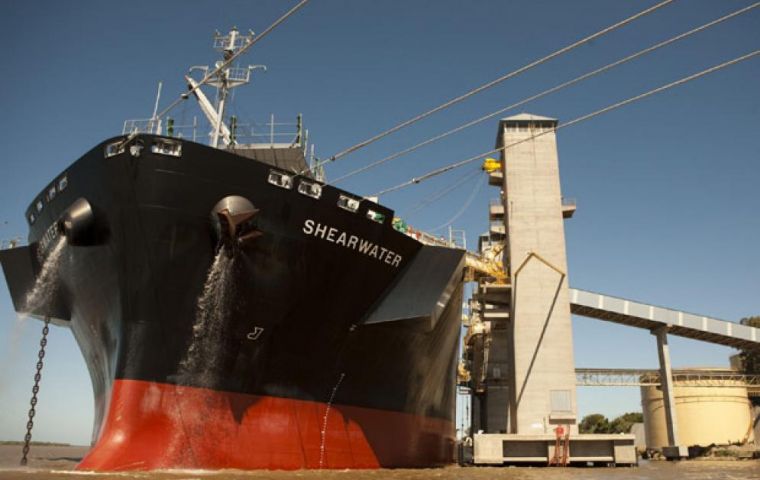 An Argentina-China agreement to unlock the soybean oil conflict seems to move forward as a government official, who preferred to remain anonymous, told a news agency that China has agreed to allow all cargo ships on their way to China to unload soybean oil at Chinese ports.
The source revealed that this is only a "partial agreement" as trade negotiations between both countries continue.
The official also revealed that this initial agreement was reached thanks to the efforts made by the staffers of the Agriculture Ministry and The National Food Health Service (SENASA), who travelled to China in an attempt to solve the conflict.
Anyway, the Chinese blockade continues as new soybean oil shipments will not be allowed to enter the Asian ports.
Authorities from both countries have been holding meetings since last Monday when Foreign Minister Jorge Taiana met with Chinese ambassador, Gang Zeng, after Beijing decided to put into effect measures that tend to restrict Argentine soybean oil imports.
Chinese authorities say new safety standards on Argentine soybean oil, initiated last week, were purely on safety grounds and not intended as curbs on imports, although this is likely to be their impact.
The Chinese Commerce Ministry told a conference of major traders the solvent residues used for processing soybean oil should not exceed 100 parts per million (ppm), whereas the solvent residue level in soybean oil imported from Argentina was around 300 ppm, according to a report in the China Daily.
Chinese soybean-oil traders may "gradually" delay or cancel imports from Argentina after the government toughened inspections, the China National Grain and Oils Information Centre said in a report.
Argentina is "optimistic" talks will end a blockade by China on soybean-oil imports that may cost the South American country as much as US$2 billion, Miguel Calvo, vice president of the Argentine Soybean Chain Association, said.
While on the surface a trade dispute about dumping of Chinese goods, the subtext of Beijing's move to restrict Argentine soy-oil imports is China's record edible oil stockpiles and struggling oilseed processors. China has accumulated massive reserves of soybean, palm and rapeseed oil, putting pressure on the country's crushing industry that is operating at just half its 94 million tonnes a year capacity.
In addition to its vegetable oils purchases in the first two months of the year, China has also been purchasing big quantities of soybeans. Although no official data is available for the quantity of vegetable oil stockpiles, what is clear is that trade estimates for anything from 2.2 to 4 million tons are well above the usual stock level of 1.8 million tons.
On top of the reserves, China bought 7.1 million tons of soy in the first two months of this year, an increase of nearly 12%t from a year ago.