EU warns Portugal is in danger zone: must adopt tougher deficit cuts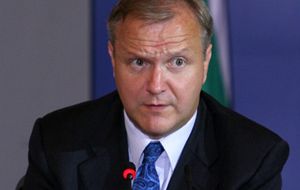 The European Union said Portugal may need further budget measures this year to meet its deficit- cutting targets, as the pace of economic growth contributes to investor concern about contagion from Greece's fiscal crisis.
"The Portuguese stability program is ambitious and quite concrete for the years 2011-2013, but additional measures of fiscal consolidation might be needed, especially for this year," EU Economic and Monetary Affairs Commissioner Olli Rehn told reporters in Brussels Wednesday.
Concern that Greece's fiscal woes could spread to other indebted Euro-area countries have been pushing up the cost of borrowing for Portugal and of insuring its debt. The country had a budget deficit of 9.4% of GDP last year, more than three times the EU limit of 3%.
The premium, or spread, investors demand to hold Portuguese 10-year bonds instead of benchmark German bunds rose 7 basis points to 127 basis points in London. The yield on the 10-year Portuguese bond climbed 6 basis points to 4.42%, while Greece's 10- year bond yield advanced 26 basis points to 7.17%.
A surge in Greek borrowing costs to an 11-year high led Euro-region finance ministers on April 11 to pledge 30 billion Euros in loans at below-market interest rates to help aid Greece. Portugal itself may need "pre-emptive" aid from Euro-region governments, former IMF chief economist Simon Johnson said in an interview on Bloomberg TV.
Fitch Ratings on March 24 lowered Portugal's credit rating by one step to AA- with a "negative" outlook, saying that further economic or fiscal underperformance this year or in 2011 may lead to another downgrade. The Bank of Portugal on March 30 said the economy will grow less than it forecast in January as the government cuts spending to trim the deficit and debt.
The economy will expand 0.4% this year, less than the 0.7% forecast by the central bank in January and by the government in March, and 0.8% in 2011, compared with the bank's previous 1.4% estimate, the central bank said. That expansion would follow a 2.7% GDP contraction last year.
The Portuguese government this week reaffirmed its commitment to reach the goals set out in its Stability and Growth Program for the 2010-2013 period. It calls for narrowing the deficit to 2.8% in 2013 by delaying investment on railway projects, limiting state workers' salary increases and curbing some tax deductions. The program's macroeconomic scenario is prudent "but obviously not free of risks," the Finance Ministry said in an e-mail.
"The somewhat favorable macroeconomic assumptions after 2010 may imply a lower contribution of economic growth to fiscal consolidation than envisaged, and therefore may require further consolidation measures" the EC said in the Wednesday statement.
Portugal's debt is set to jump to 86% of GDP this year. With planned asset sales, debt will fall to 89.8% in 2013 from 90.7% in 2012, the government forecasts. Prime Minister Jose Socrates's government has said that it plans to sell 6 billion Euros of assets that may include stakes in utility EDP-Energias de Portugal SA and oil company Galp Energia SGPS SA.