Mrs. Kirchner personally apologizes to Hu Jintao for cancelled visit to China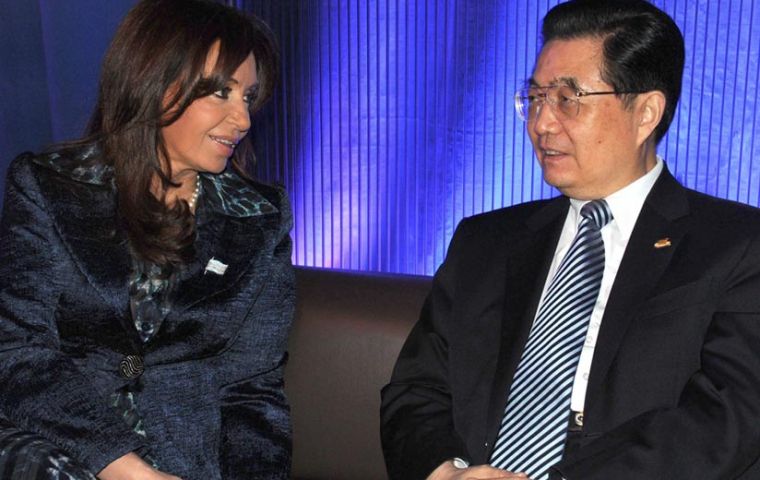 Argentine president Cristina Fernandez de Kirchner apologized to her peer, China's Hu Jintao for having cancelled in January at last moment a long time planned official visit to Beijing. Mrs. Kirchner and President Hu Jintao met in the sidelines of this week's nuclear security summit in Washington.
"He understood perfectly what happened. He knew all about the people involved", said Mrs. Kirchner during a meeting with Argentine reporters in Washington in reference to the January incident with her vice-president Julio Cobos, the alleged reason for her cancelling the official visit to Beijing.
At the time Mrs. Kirchner feared that acting president Cobos, with whom she has split politically, during her absence could take advantage of the situation.
"I felt it was the right thing to do, I felt I had to apologize personally. I had already sent a letter but it was necessary to tell President Hu Jintao face to face", she insisted.
However Mrs. Kirchner denied that the two leaders had talked about the recent Chinese decision to ban Argentine oil soybean shipments, a most pressing issue for Argentina, among the world's main exporters and Beijing its leading client.
Last week Argentina summoned the Chinese ambassador in Buenos Aires to officially protest the soybean oil decision.
"No, no we did not address the issue. That is for the experts, but I'm certain a solution will be found", said Mrs Kirchner. She added that the retained shipments have left for China or are unloading, "which is a positive signal".
Mrs. Kirchner also revealed that she will be travelling to China sometime later in the year, although no date has yet been agreed. "This is evidence that Chinese authorities understood what happened", she underlined.
The Argentine president also announced her coming trip to South Korea towards the end of the year, for the second G-20 group meeting of the year following on Canada's next month.
In Buenos Aires Deputy Foreign Affairs minister Victorio Taccetti implied to the Argentina Lower House Foreign Affairs Committee that unlocking soybean oil exports to China could take longer than expected.
"Negotiations with China are never a one minute issue, but I believe we are on the right path for the opening of the soybean oil market", said Taccetti.
"China is Argentina's second trade (behind Brazil) partner and we need to work out a commercial equilibrium", added the Argentine official. China has imposed tougher standards for the import of soybean oil regarding the allowable percentage of chemical residues.