South Atlantic Royal Navy nuclear powered sub en route to be decommissioned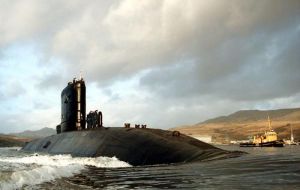 After a shorter than expected stay in South Africa's Cape Town, the Royal Navy nuclear-powered, but conventionally armed, fleet submarine HMS Sceptre (S104) departed from Simon's Town naval base having only spent five days in port.
According to the British press HMS Sceptre has been patrolling off the Falkland Islands because of renewed tension between the UK and Argentina.
This is HMS Sceptre final deployment as she is to be decommissioned at the end of this year. The Swiftsure-class submarine arrived on April 6 on a goodwill visit that the Royal Navy says reinforces the strong ties the Royal Navy already enjoys with the South African Navy.
The application to the South African National Nuclear Regulator (NNR) to approve the visit mentioned an 11-day visit, but the expected arrival date of mid-March was delayed. The NNR granted a Nuclear Vessel Licence to the SA Navy, which applied on behalf of the Royal Navy for the nuclear-powered submarines visit.
The SA Navy told the Digital Journal in an earlier interview that the Sceptre had been delayed by "operational requirements" but did not elaborate.
During the short stay, the crew took the opportunity to host a reception with the SA Navy and visited some of the SA Navy units. However, no joint exercises were conducted. Speaking to defence-Web aboard the submarine, the Commanding Officer, Commander Steve Waller, elaborated: "We were supposed to come here earlier, but due to operational reasons we were delayed. Because it's the Easter stand down for the South African Navy and (they are) preparing for World Cup duties, we haven't been able to organise an exercise. It's just unfortunate timing at the end of the day."
HMS Sceptre left her home port of Faslane in Scotland in October 2009 and the Cape Town visit is the end of her trip. She will be making her way home, arriving in the UK in a few months time.
This is not the first time HMS Sceptre has visited Simon's Town. "I actually joined the submarine in December 2007 when she had just come back from visiting here," Waller said.
Cape Town has a special significance for the Sceptre and the Royal Navy. The first HMS Sceptre was wrecked in Table Bay during November 1799 when her anchors dragged during a storm.
The fourth submarine built in the six-boat Swiftsure-class, Sceptre was commissioned on 14 February 1978, making her 32 years old. Equipped with five weapon tubes, her armament includes Spearfish torpedoes and Tomahawk cruise missiles.
At present she is currently the oldest commissioned vessel in the Royal Navy still in active service and is to be decommissioned in December. She will be replaced by HMS Astute, the BAE Systems-built lead Astute class submarine.