Argentina's "next step" is to negotiate 7.5 billion debt with the Paris Club
Saturday, April 17th 2010 - 06:29 UTC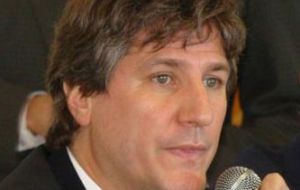 After unveiling Argentina's debt-swap details Thursday, Economy Minister Amado Boudou said on Friday that the next step is to negotiate the 7.5 billion dollar debt Argentina maintains with the Paris Club.
"We will try to implement a similar strategy to the one implemented for the debt-swap," he said.
Boudou also stated the government is expecting interest rates to fall after the debt swap offer, and remembered the last debt restructuring was "successful and it worked."
Speaking with reporters Boudou said that settling Argentina's obligations with the Paris Club, an informal group of representatives of the world's biggest economies that manages government debt, is "the next step on the agenda."
Boudou put Argentina's sovereign debt at 7.5 billion dollars, but said the amount could be larger if punitive interests that have accrued were taken into account.
"We have to look for a strategy similar to this one (the bond swap for private investors) that can be undertaken with Argentina's needs and possibilities," the minister said.
President Cristina Kirchner announced at the end of 2008 that her government intended to settle its debt with the Paris Club, but the initiative was thwarted by the global financial crisis.
"The debt swap makes sense if Argentina puts it within a framework of normalization," said former finance minister Daniel Marx, who said Argentina must lower interest rates to encourage investment and make exports more competitive.
Dario Epstein, of the consulting firm Sur Investment, said "the best thing Argentina is doing is showing that it has the will to pay and that it wants to close this chapter."
Argentina has been sidelined from the financial markets since 2001 when it declared a unilateral default on nearly 100 billion dollars in debt, the largest default in history.
Boudou on Thursday announced an ambitious plan to settle with private investors collectively holding 20 billion dollars in bonds that Argentina defaulted on in 2001, offering to exchange them at one third their face value.
The government hopes that at least 60 percent of its bondholders will take up the offer it announced Thursday.
Bondholders are based mainly in the United States, Italy, Luxembourg, France, Japan and Germany, where the offers will be publicly issued beginning April 26 for a period lasting no more than 30 days.