Egypt expects to sign free trade agreement with Mercosur next July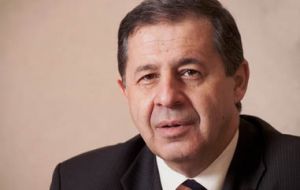 Egypt expects to complete free trade negotiations with the four Mercosur countries -- Brazil, Argentina, Uruguay and Paraguay -- in July, Egypt's trade minister revealed this week in Cairo.
"We expect to reach an agreement and sign the free trade agreement at the start of July ... to start a new page in relations between Egypt and Brazil and the Mercosur countries," Trade Minister Rachid Mohamed Rachid told a conference in Cairo.
Brazil's Minister of Development, Industry and Foreign Trade Miguel Jorge also attended the conference.
Egypt's exports to Brazil totalled 87.7 million USD in 2009 while its imports amounted to 1.53 billion, Egypt's trade ministry said in a statement.
"We can't forget that Brazil is considered today one of the strong emerging countries on the global economic stage, and was also one of the first countries to recover from the global economic crisis in 2009" Rachid said.
"The ventures between us and Brazil are very diverse. There is a lot of cooperation in the industrial sector," Rachid told reporters on the sidelines of the conference, adding that areas of cooperation between Brazil and Egypt included transportation, textiles, agriculture and fishing.
In November, Egypt's Orascom Construction Industries said it was forming a joint venture with Brazil's FITCO International S.A. to distribute its fertilizer products.