Judge declares "null and non existent" first lesbian marriage in Argentina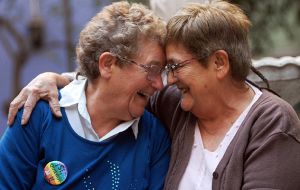 A Buenos Aires judge voided on Friday the marriage last week of two women, the first union of its kind in Argentina, judicial officials said.
Argentine Norma Castillo and Uruguay's Ramona Arevalo, both 67 and who have been a couple for the past three decades, married on April 9 after getting the go-ahead from Judge Elena Liberatori.
But Judge Martha Gomez Alsina on Friday decided to annul the marriage, granting a petition by a Catholic attorney to declare the union "null and non-existent."
The wedding of Castillo and Arevalo, which was the third same-sex marriage in Argentina and the first involving two women, came amid debate of a bill in the Lower House that would allow gays to marry and adopt children. The bill is staunchly opposed by the Catholic Church.
Earlier this week, Argentine Judge Marcos Meillien declared "nonexistent" last year's union of Alex Freyre and Jose Maria di Bello, the first same-sex marriage in Argentina and all of Latin America, authorities said Thursday.
The judge said Argentine law does not include any provision for the marriage of two people of the same gender.
Freyre and Di Bello married on Dec. 28 in Ushuaia, the capital of Tierra del Fuego, after having tried to do so without success in Buenos Aires the previous month.
More than 60 same-sex couples have presented requests to be able to marry in Argentina, where currently civil unions between people of the same sex are allowed in four cities, among them Buenos Aires.
The Buenos Aires City Civil Union law, which was approved in late 2002, was the country's first legislation on the matter and the first recognition of gay couples in Latin America.