Farming nations meet in Uruguay in anticipation of G-20 summit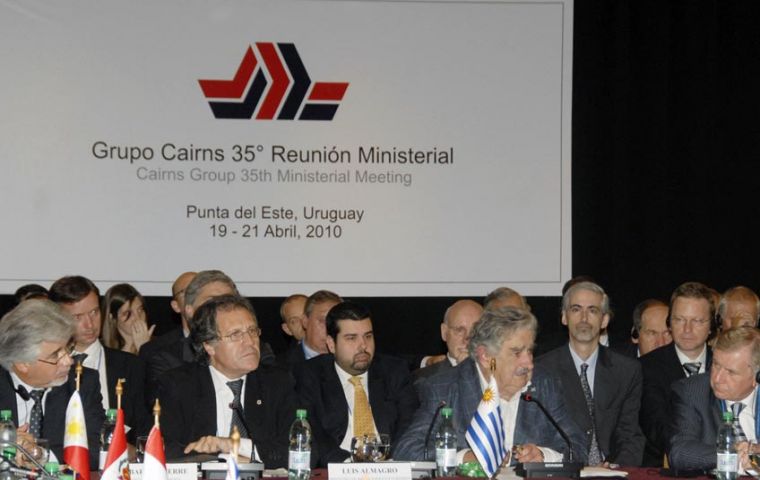 The world's large economies could make progress to revive stalled world trade talks at two G20 summits later this year, officials from farming nations said on Monday at a two-day meeting in Uruguay.
Members of the 19-member Cairns Group of nations are considering how to inject new life into the World Trade Organization's (WTO) deadlocked Doha round of negotiations that it sees as vital to a sustained global economic recovery.
G20 which brings together the major world economies has called on trade ministers to reach a Doha agreement by 2010. Cairns Group members account for more than 25% of the world's agricultural exports and a one billion population.
The meeting was inaugurated by Uruguayan president Jose Mujica who praised some of the advances in the framework of the World Trade Organization, WTO, but insisted that the best guarantee for small countries is international law and clear rules, "there's much to advance, but we are a bit better", he said.
Mujica added that feeding the one billon people who suffer hunger in the world is an issue of social justice, of a more balanced world but also of convenience because more food means more farm trade.
"If hunger disappears from the face of the world it will not only be because of free trade, but it won't disappear without free trade as a main component", underlined Mujica.
The Uruguayan president argued that the so called "agriculture protectionism" is basically industrial protectionism because equipping and supply of agriculture represents in many advanced countries can represent up to 25% of GDP.
"Agriculture seems to be overlooked but how important are the incentives and added valued for industries that supply agriculture".
Mujica ended saying he was hopeful that further advances could be reached at WTO level and called on the G-20 to open their markets for the efficient producers of farm goods.
In the sidelines of the Punta del Este meeting Australian Trade Minister Simon Crean said progress could be made at two G20 meetings later this year, and that a series of bilateral talks aimed at narrowing differences could help.
"If we can bring about that narrowing then we've got two opportunities through the G20 to make progress this year; Toronto in June and Seoul in November," he told reporters.
"We're of course frustrated with the failure of the Doha round to conclude," Crean said, adding that achieving a Doha deal this year was "looking hard."
"If we're looking for a global response to sustained economic recovery, trade is the low-hanging fruit," he said
WTO Director General Pascal Lamy estimates nearly 80% of the issues in the negotiations have been resolved.
But the slow progress in bridging the remaining differences has fuelled suggestions the talks be paused for a while or scrapped altogether to focus on other trade areas.
Much of the impasse comes from Washington's demand that major developing countries make better offers to open their farm, manufacturing and services markets in exchange for US cuts in farm subsidies and politically sensitive tariffs.
Deputy US Trade Representative Michael Punke, was unable to attend because his travel plans were interrupted by the volcanic ash from Iceland that has disrupted hundreds of global flights.
Members of Cairns group are: Argentina, Australia, Bolivia, Brazil, Canada, Chile, Colombia, Costa Rica, Philippines, Guatemala, Indonesia, Malaysia, New Zealand, Paraguay, South Africa, Thailand and Uruguay,
Special guests of the meeting are Agriculture and Trade ministers from Japan, China, India and Egypt, Mexico's Agriculture Secretary, Trade and Agriculture Commissars from the European Union and David Walker head of the WTO Agriculture negotiations office. Ukraine and Vietnam were invited as observers.