Argentine military Junta president sentenced to 25 years in prison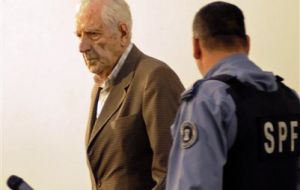 Retired General Reynaldo Bignone, 82, the last leader of Argentina's 1976-1983 military regime was sentenced Tuesday to 25 years in prison for crimes against humanity.
Bignone was named president by his peers July 1982 following the humiliating collapse of the Argentine military attempt to hold on to the Falklands by force following the April 2 invasion.
A federal court in the Buenos Aires suburb of San Martin handed down identical sentences to Generals Santiago Omar Riveros and Fernando Verplaetsen and shorter jail terms to three other former military officers.
Judges acquitted a police officer charged in the case.
To the cheers of victims' families and human rights activists in the courtroom, the judges also ordered that Bignone, Riveros and Verplaetsen serve their time in prison, not under house arrest, as is usual for convicts over the age of 70.
"We are happy about the sentences and about the decision to put them in an ordinary prison," the leader of the Grandmothers of the Plaza de Mayo rights group, Estela de Carlotto, said after the verdict.
Bignone and the others went on trial last November for torture and other abuses committed against 56 prisoners at the Campo de Mayo military barracks, located on the outskirts of the Argentine capital.
Very few of the more than 5,000 people who passed through the Campo de Mayo facility survived, according to human rights organizations.
Bignone said Tuesday in his final statement to the court that the Argentine armed forces "had to intervene to defeat terrorism" and that the urban guerrillas "were not innocent tender students driven by ideology".
Reynaldo Bignone became president on July 1, 1982, replacing the disgraced Leopoldo Galtieri after Britain defeated Argentina in the Falklands War which ended June 14.
During his brief tenure, Bignone negotiated the transition to civilian rule; ordered evidence of the junta's "dirty war" against the left destroyed and decreed an amnesty for members of the military that was later overturned.
Democratic governments subsequently passed laws shielding dirty-war participants from prosecution, but those measures were struck down in recent years, leading to flood of court cases.
The 1976-1983 military regime is thought to have killed some 30,000 people, the vast majority of them with no ties to armed groups.
In December 1983 Bignone handed office to elected president Raul Alfonsín, signalling the beginning of the longest uninterrupted civilian rule period in Argentina.