Chile's nationalized copper company taps private sector CEO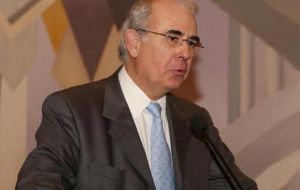 Chile's nationalized copper company—and the largest copper company in the world—has a new CEO. Diego Hernández Cabrera, a current executive with International mining giant BHP Billiton, was appointed unanimously this week as CEO by Codelco's board of executives.
Diego Hernández has run BHP's most profitable copper mine, Escondida, since 2004 and before that held executive positions with the Brazilian company Vale and the Chilean mine Collahuasi.
Hernandez's appointment was well received by many in the mining industry, who see his experience as a huge asset to Coldelco.
"Without a doubt, the experience that he has had with Escondida and his previous jobs will be a tremendous asset to Coldelco," said Mining Minister Laurence Goldberg in a press conference.
Along with Hernández's appointment came a host of questions regarding his transition from a large private company, to one of the world's largest state-owned enterprises.
Diego Hernández has indicated his desire to improve the efficiency of the mines, but others in the mining industry have expressed their concern about changes in the context of a state-owned business, specifically in regard to workers.
"If he is looking to apply some of the measures he used in his private business, he will have to do so with respect for our collective contract," Cecilia González president of a union in Coldelco North told local media.
Hernández is no stranger to labour conflicts. As president of the Escondida mine, he weathered a major 30-day workers strike in 2006. In an unprecedented move, Hernández postponed production for 11 days in order to have talks with the miners.
Faced with the same problem in 2009, Hernandéz agreed to a 26,000 USD base before even beginning negotiations.
Hernández is also a well-known opponent to the mining royalty tax. He was a key actor in the negotiations when Ricardo Lagos first presented the idea during his presidency. The mining royalty tax was recently thrown back into the spotlight, with a proposition to increase it in order to fund reconstruction for the earthquake.
Despite the worries from some, Codelco President Nicolás Majluf explained the decision was primarily based on finding a person who could bring Coldelco into the future, and make the necessary transformations.
Hernández will assume his position as CEO on May 19, replacing forming CEO José Pablo Arellano, who will become the new CEO of LAN, Chile's primary airline company.
By Lindsay Fendt – Santiago Times