Gulf of Mexico Rig Explodes and Sinks; 11 Workers Missing; Fears of Oil Leak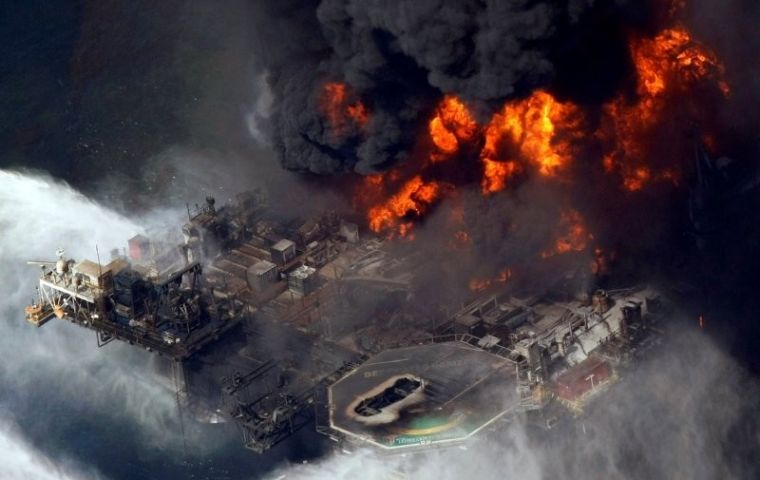 An oil rig in the Gulf of Mexico that caught fire after an explosion on Tuesday night has now sunk, the US Coast Guard has said. A search is continuing for 11 missing workers after the blast at the Deepwater Horizon rig. The other workers on the rig, off Louisiana, were evacuated to the US.
Concerns are rising over a potential for a major oil spill, with the coast guard saying the Deepwater Horizon drilling rig may be leaking 8,000 barrels of oil per day. The rig was carrying out exploratory oil drilling 84km south-east of the Louisiana port of Venice.
The rig had been burning for 36 hours when it sank despite efforts to control the flames. On Wednesday it had been reportedly tilting about 70 degrees and threatening to topple over.
There has been no sign of the 11 missing workers, despite rescue efforts by patrol boats through the night and an aerial search that resumed on Thursday.
Adrian Rose from Transocean, who own the rig, said those unaccounted for may have been close to the blast and unable to escape. The US Coastguard resumed an air search at dawn, with rescue teams hoping the workers had reached lifeboats.
Rescue crews had covered the expanse of the rig 12 times by air and five times by boat before it sunk. Seventeen of the 126 workers were evacuated by air and sea for treatment on Wednesday.
Those injured had suffered burns, smoke inhalation and broken bones. Four were critically injured. Another 100 were later taken by boat to Port Fourchon where they were checked by doctors. They were then taken to a hotel in New Orleans to be reunited with their families.
Meanwhile, there are worries that the now submerged rig is leaking large volumes of oil into the Gulf of Mexico.
Coastguard Petty Officer Katherine McNamara told Associated Press the submerged well could potentially be releasing 8,000 barrels (300,000 gallons) of crude oil per day. Rear Adm Mary Landry said crews saw an area measuring 1.5km by 8km of what appeared to be oil on the surface of the water.
The environmental damage would be worst if a spill were to reach the Louisiana shore, 50 miles away.
Deepwater Horizon was drilling for BP on part of the Mississippi Canyon Block 252 known as the Macondo Prospect, in 1,500m of water.
Built in 2001 by South Korea's Hyundai, the semi-submersible rig is 120m long and 78m wide, according to Transocean, its operators.
Transocean said there had been no signs of trouble before the explosion and crews had been doing routine work. The dangers of working on an oil rig have declined in recent decades, but the job remains risky.
Since 2001, there have been 858 fires and explosions in the Gulf, according to the Federal Minerals Management Service.