UK record borrowing in 2009/10 to cover biggest budget deficit since WW2
Friday, April 23rd 2010 - 02:45 UTC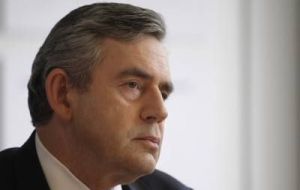 UK Primer Minister Gordon Brown's government borrowed a record £163.4 billion in the 2009/2010 financial year, according to figures published Thursday. While it is the biggest budget deficit since the Second World War, the figure is lower than Chancellor Alistair Darling's prediction in the budget of £166.5 billion for the year.
Net borrowing in March 2010 was £23.5 billion, the highest figure for monthly borrowing since records began. The figure made little impact on investor sentiment as the FTSE continued rising and the pound held onto its gains.
Investors are now focused on Friday's data on UK economic growth in the first quarter of the year.
Meanwhile sterling made another sharp move higher after the Thursday release of the latest minutes from the Bank of England (BoE) rate setting committee.
The pound had already been climbing before the report from the Monetary Policy Committee (MPC) was released detailing its latest decision to leave interest rates on hold at 0.5%, and its quantitative easing (QE) strategy unchanged.
The minutes, which revealed the MPC had voted 9-0 in favour of leaving rates alone, lifted sterling to day highs against both the euro and dollar, up to €1.11 briefly against the single currency, and $1.6589 against the greenback.
The move against the US currency meant the pound was trading at its highest level for five weeks against the dollar, while against the euro it was at four week highs.
The MPC added that its efforts to stimulate the economy had worked "as anticipated" and it was likely that "the asset purchase programme had contributed to these developments, although it was unlikely to have been the only factor".
The MPC hinted that next month could see a change in policy—with an expansion of QE potentially on the cards—after stating: "The forecast round ahead of the November Inflation Report would provide an opportunity to assess more fully how the medium-term outlook for activity and inflation had evolved since August."