Germany and France Strongly Condition Rescue Aid Package to Greece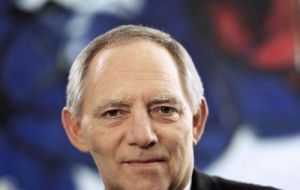 Greece will not get its multi-billion Euro aid package until it commits to bigger economic sacrifices, Germany's finance minister warned over the weekend.
Speaking just days after Greek Premier George Papandreou officially asked the EU and International Monetary Fund for as much as €45 billion in financial assistance, Germany's Finance Minister Wolfgang Schäuble told a German newspaper that a decision on aid had not yet been made and could yet be 'negative'.
The Bundestag will need to ratify aid for Greece and there are expected to be legal challenges.
French government figures also put pressure on Greece. Economy Minister Christine Lagarde reportedly said that Greece had failed Europe, describing the aid package as a "cocktail of indulgence and great strictness".
But the IMF Managing Director Dominique Strauss-Kahn made an upbeat statement on Sunday after having met with Greek Finance Minister George Papaconstantinou.
"I am impressed with the Greek authorities' determination to take the actions necessary to put their economy back on track […] I am confident that we will conclude discussions in time to meet Greece's needs".
Papandreou made the official request for financial aid in a televised address on Friday after Moody's cut the country's credit rating and warned that Athens must do more to restore market confidence.
It was revealed last week that the Greek Government had run up a budget deficit of €32.34 billion, or 13.6% of GDP, in 2009—throwing doubt on the country's ability to reduce its deficit by as much as it originally promised.