Grim Chapter of Chilean History Closes with Death of Former Nazi and Cult Leader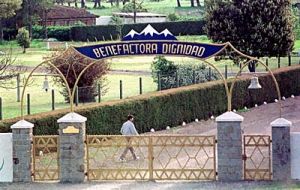 At 7:20 a.m. Saturday, former Nazi and cult leader Paul Schäfer died of heart failure in a Chilean prison hospital, closing a decades-long story of torture, tax evasion, and child sexual assault.
Schäfer had served five years of a 33-year prison term, which included 20 years for the abuse of 25 children. However, he is accused of sexually abusing as many as 10,000 children over a period of 40 years in Chile.
A former victim, Wolfgang Müller, responding to his death, told the newspaper La Tercera, "the biggest pederast in the world died today in Chile."
In 1961, Schäfer, fleeing charges of child abuse in Germany, came to Chile and founded the "Sociedad Benefactora y Educacional Dignidad", (Dignity Charitable and Education Society) which would later become the cult-like "Colonia Dignidad" (Dignity Colony), a group of German immigrants, some of whom had come with him from Germany, who settled a rural area about 225 miles south of Santiago, near the city of Parral.
He ruled the colony with an iron fist and called himself "The Permanent Uncle". Television and telephones were banned. Men and women worked separately, children were separated from their parents, and sex was forbidden unless one had the unlikely permission of Schäfer. Citizens were encouraged to confess, both their own sins and the sins of others. Hard labour was said to bring one closer to God. The community was largely isolated from the outside world.
A 2008 investigative report by Bruce Falconer in The American Scholar reveals that the colony's population was mobilized by Schäfer to fight against an imaginary enemy. Many of the villagers had come from Germany and remembered the threat of Russia. The town was staunchly anti-communist. Some citizens formed part of a paramilitary group that would patrol the town. The village was surrounded by fences and dogs and filled with defences, such as armoured window blinds, cameras, and alarms. Some villagers were singled out as "the rebels".
Others villagers were "sprinters" for Schäfer, who not only served as messengers, but frequently were the victims of Schäfer's sexual abuse. Falconer comments: "his routine, it later emerged, included feeding them sedatives, washing them with a sponge, and sexual manipulation."
Wolfgang Müller was one villager who escaped and in 1966 was one of the first to denounce Schäfer. The Chilean Government began to investigate, including then-Senator Patricio Aylwin, who would continue to pursue Schäfer and the Colonia Dignidad from 1969 on.
Located in a poor rural region, the community constructed a hospital that was open to many of the poorer neighbours. In part because of the hospital, the community received and exploited many tax exemption benefits as a non-profit charitable organization. The newspaper La Nacion reports that by the time Aylwin removed the status in 1991, when he was Chilean president, it had been used to commit at least 80 distinct crimes.
Investigations into the community were put aside by the 1973 military coup. During Augusto Pinochet's 1973-1990 military dictatorship, Colonia Dignidad collaborated with the DINA, the government secret police, as holding center and torture site. During this period, a number of opponents of the government "disappeared" in the area. In 1985, Jewish-US citizen Boris Weisfeiler also disappeared while taking a vacation in the area.
Investigation began again after the dictatorship ended in 1990 and in 1997 Schäfer fled to Argentina after escaping numerous police raids on Colonia Dignidad by hiding in secret bunkers underground. Schäfer was tracked down in 2005 and brought back to face justice in Chile. At that time, former Interior Ministry Undersecretary Belisario Velasco attributed some responsibility for the delay to "a network of people involved with Schäfer who did not want an investigation to ever occur, much less get to the courts".
While much remains unknown about Schäfer's activities, the last 20 years have brought a large amount of evidence to light. In 1995, more than three tons of weapons were found at Colonia Dignidad, including 85 submachine guns, 60 hand grenades, and rocket launchers.
Colonia Dignidad has continued under the name of Villa Baviera since 1990. And this weekend that remain group at the community rejected a proposal to bury Schäfer on their grounds.
The Santiago Times maintains an in-depth archive of the Boris Weisfeiler case and of the investigations into Paul Schäfer and Colonia Dignidad.
By Benjamin Schneider – Santiago Times