Majority of Gibraltarians Consider the Role of The Governor Relevant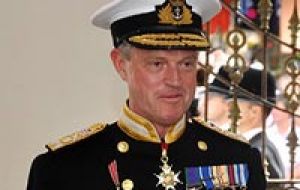 A majority of Gibraltarians considers that the role of the Governor is important/ relevant in today's Gibraltar. That is the conclusion of the recent poll carried out by the Gibraltar Chronicle.
Of the 588 sample, 58% said 'yes' to the question: "Do you think the role of the Governor is important/relevant in today's Gibraltar?"
But 30% said 'no' and 12 % did not know.
The view comes at a time when the position and power of the Governor has been substantially reduced by the new Constitution which reversed the definition of powers such that these are defined as foreign affairs and defence/security, although the reserve powers are ultimately retained.
The poll shows that a majority of voters of different political trends—i.e. whichever party they would support in an election—take the view that the Governor's role remains relevant.
It is the supporters of the governing Gibraltar Social Democrats (GSD) that most reinforce this view: 78% saying the role is important/relevant and 20% saying it is not (the remainder being "don't knows").
For the Gibraltar Socialist Labour Party (GSLP/Liberals) the breakdown is 54% yes, 37% no, 9% don't know.
For Progressive Democratic Party (PDP) supporters: 72% yes, 23% no, 5% don't know.
Out of those who answered 'don't know' (in terms of the party they would vote for): 42% yes, 31% no and 27% don't know.