"Boobquake" Day Shakes Taiwan and South Sandwich Islands
Tuesday, April 27th 2010 - 23:39 UTC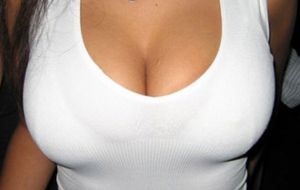 If a senior Iranian cleric is to be believed, the 6.9 magnitude earthquake in Taiwan was a boobquake, not an earthquake. Hojatoleslam Kazem Sedighi warned last week that "women, who do not dress modestly... lead young men astray, corrupt their chastity and spread adultery in society, which [consequently] increases earthquakes".
In response to such a statement blogger Jennifer McCreight (blaghag.com), called on women around the world Monday to test the premise of the Iranian cleric. And an estimated 200,000 woman took part in the 24-hour experiment dubbed "Boobquake," including some who posted pictures of their breasts on Facebook and Twitter.
Others chose to wear low cut tank tops; a few went bare-breasted on the street. Demonstrations took place in Vancouver, Toronto, Washington and West Lafayette, Indiana, where McCreight is a student at Purdue University.
Now the data is in from the United States Geological Survey and, according to McCreight's analysis, it seems Boobquake did little to spur shifting of the planet's tectonic plates.
"As you can see qualitatively, our provocative dress didn't really seem to affect the frequency of earthquakes," she wrote Tuesday on her Blaf Hag blog. "There were 47 earthquakes on the 26th, which falls well within the 95% confidence interval for number of earthquakes (about 0 to 148)."
According to the Geological Survey website, those earthquakes included a 6.5-magnitude earthquake southeast of Taiwan and a 5.4 near the South Sandwich Islands region. Over the past six days, the number of earthquakes daily has ranged from 38 to 48.
"So did our cleavage/thighs/ankles/hair increase the number of earthquakes?" McCreight asks. Her answer is an unequivocal "no." As for changing Sedighi's mind, McCreight wasn't optimistic: "People tend to find any way possible to justify their superstitious beliefs, no matter how illogical," she writes.
"I'm sure the next time a big quake hits we'll get a 'See? Told you so!' even if the event wasn't statistically significant—he didn't care about science before, and he probably won't now".