More Sex to Combat High-Blood Pressure Recommends Brazilian Minister
Thursday, April 29th 2010 - 06:08 UTC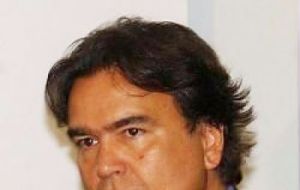 Brazil's health minister has an interesting solution for the nation's high blood pressure problem: more sex.
That is what Minister José Gomes Temporão suggests as the remedy to the problem. According to him, adults should be exercising more to aid in keeping their blood pressure down and sex falls in the realm of a good cardiovascular workout, yet "always with protection, obviously." In addition to sex, he recommends dancing, a healthy diet and regular blood-pressure checks.
"People need to be active. A weekend football game must not be the only physical activity for a Brazilian. Adults need to do exercise: walk, dance and have safe sex," he said.
Gomes Temporão made his announcements earlier this week when launching a campaign to prevent high-blood-pressure, which affects a quarter of Brazil's 190-million population. While it may seem an odd request, Temporão is serious and had to defend his statements later to reporters: "It's not a joke. It's serious. Having regular physical exercises also means sex, always with protection of course," the minister said.
He added that he believed there was a health "time bomb" ticking in Brazil, which within 20 years could see a "gigantic percentage" of the population suffering chronic illnesses, high blood pressure, diabetes and high cholesterol.
According to official health statistics the number of Brazilians diagnoses with high-blood pressure (that is above 14/9) increased from 21.5% in 2006 to 24-4% last year. The rise was even for all age brackets although was particularly severe for those 65 and over: in 2006 the percentage was 57.8 and now stands at 63.2%.