Outbreaks of Foot-and-Mouth Disease in Japan Includes Cows and Pigs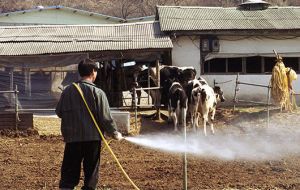 Japan has discovered suspected cases of foot-and-mouth disease in pigs at a farm in Miyazaki prefecture, where the government confirmed the first outbreak since 2000 in cows last week.
Five pigs at the farm were found to be infected with foot-and-mouth disease according to initial test results, the Ministry of Agriculture, Forestry and Fisheries said in a statement Wednesday. All 486 pigs at the farm are being culled, it said. The latest findings bring the tally of suspected infections to 10 and will result in the slaughter of about 2,900 cows and pigs in total in an effort to prevent the disease from spreading, the Miyazaki Prefecture Government said.
The foot-and-mouth virus is one of the most contagious animal diseases and can have high mortality rates in young animals, according to the Paris-based World Organisation for Animal Health (OIE). Eating infected meat doesn't harm humans. To contain the disease, the Japanese Government has limited transportation of animals in the region, killing them at farms where suspected cases were discovered and disinfecting the area. Miyazaki is on Japan's southern island of Kyushu.
Japan's last outbreak of the disease was in 2000, when the country slaughtered 740 cattle, according to Katsumi Yorita, deputy director at the ministry's livestock industry policy planning division. In April 2000, Souichi Kagawa, then executive director of the Japan Livestock Industry Association, said Japan's first outbreak of foot-and-mouth disease in 92 years had been contained and caused little damage to the country's 500 billion yen (4.8 billion USD) domestic beef industry.
In South Korea, the farm ministry said April 22 that two cases were found at a pig farm in Chungju, south of Seoul, indicating the virus has spread inland. A new outbreak was discovered on April 9 on Ganghwa Island, less than a month after the nation declared itself free of the disease. China in March reported an outbreak of the disease in pigs.