LAN Plans to Invest 2.83 Billion USD in 2010/2013 to Expand its Fleet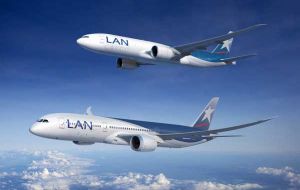 LAN (NYSE: LFL), Chile's dominant airline and flag carrier, announced Thursday it would invest 2.83 billion US dollars between 2010 and 2013 to expand its fleet. CEO Jorge Awad told a shareholder meeting the company would invest 500 million USD in 2010 and 1 billion USD in 2011 to purchase both short and long-haul aircraft.
The investment compares with 1.4 billion the company announced last April it had earmarked for 2009-2011. Earlier in the week, LAN (NYSE: LFL) said its net profit rose 36% to 88.3 million USD during the first quarter, citing a strong recovery in its passenger and cargo businesses. LAN said its results were also boosted—comparing to one year ago—because of a 57.9 million USD hedging loss in the first quarter of 2009. LAN lost 2.63 million on hedging in the first quarter of 2010.
However, LAN said that its results had been held back because of the devastating earthquake on February 27, which cancelled flights out of Santiago International Airport and damaged installations. Last month LAN announced it had reached a deal with Boeing to bring forward delivery of 10 new Dreamliner planes to 2011 from 2014.
LAN has affiliates in Ecuador, Peru and Argentina. It accounts for more than half of Chile's international passenger traffic and nearly three-quarters of its domestic traffic.