Out of Control Oil Spill Reaches Louisiana Coastline; BP Shares Plunge
Friday, April 30th 2010 - 05:35 UTC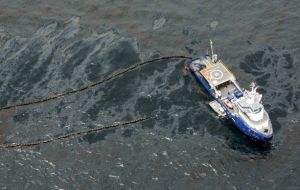 Oil started washing ashore on the US Gulf Coast from a leaking offshore well, the US Coast Guard reported. Up to 5,000 barrels of oil a day are thought to be spilling into the water after last week's explosion on a BP-operated rig (NYSE:BP), which then sank.
A state of emergency has been declared in Louisiana and President Barack Obama has pledged "every single available resource" to help. The US Navy has been deployed to help avert a looming environmental disaster.
The US Coast Guard reported late Thursday that long, thin traces of crude oil were washing up on the Louisiana shoreline. Thicker concentrations were a few miles offshore. "This is a very, very big thing," said David Kennedy of the National Oceanic and Atmospheric Administration. He told Associated Press news agency: "And the efforts that are going to be required to do anything about it, especially if it continues on, are just mind-boggling."
An emergency shrimp season was opened on Thursday to allow fishermen to bring in their catch before it was fouled by the advancing oil. The US Government has designated the Gulf of Mexico oil spill as an "incident of national significance". This allows it to draw on resources from across the country to deal with the oil leak.
Louisiana Governor, Bobby Jindal, has declared a state of emergency and asked for federal funds to deploy 6,000 National Guard soldiers to help with the clean up. The Louisiana coastline, with its rich shrimp and oyster beds, is the most threatened by the spill.
President Obama has dispatched high-level administration officials, including Homeland Security Secretary Janet Napolitano, to the area. He has also ordered environmental agency officials to inspect all offshore oil rigs and platforms to make sure they adhere to US safety codes.
Speaking at the White House, Mr Obama said: "While BP is ultimately responsible for funding the cost of response and clean-up operations, my administration will continue to use every single available resource at our disposal, including potentially the Department of Defence, to address the incident."
"And I have ordered the Secretaries of Interior and Homeland Security, as well as Lisa Jackson of the Environmental Protection Agency to visit the site on Friday to ensure that BP and the entire US government is doing everything possible, not just to respond to this incident, but also to determine its cause."
Devastating
The US Coast Guard said earlier that up to 5,000 barrels of oil a day—five times the previous estimate—might now be leaking into the water. BP's (NYSE:BP) chief operating officer of exploration and production, Doug Suttles, said the company was using remote operative vehicles (ROVs) to try to find out how much oil was leaking into the sea. "This is very, very difficult to estimate," Mr. Suttles told reporters.
"Down below the surface we actually can't meter this oil so we can just observe it... what our ROV pictures show to us on the sea floor hasn't changed since we first saw the leak... but what we can say based on what we're picking up on the surface it looks like it is more." Mr. Suttles estimated something between 1,000 and 5,000 barrels a day was leaking.
Efforts to stem the flow are being complicated by the depth of the leak at the underwater well, which is about 5,000ft (1,525m) beneath the surface. Wednesday saw a US Coast Guard crew set fire to part of the oil slick in an attempt to save environmentally sensitive wetlands.
A "controlled burn" of surface oil took place in an area about 30 miles (50km) east of the Mississippi River delta. Engineers are working on a dome-like device to cover oil rising to the surface and pump it to container vessels, but it may be weeks before this is in place. It is feared that work on sealing the leaking well using robotic submersibles might take months.
BP is also working on a "relief well" to intersect the original well, but this is experimental and could take two to three months to stop the flow. Under US law, BP will be expected to meet all the costs of the spill clean-up operation.
Shares in BP plunged 8% Thursday as investors panicked about speculation that the Gulf of Mexico blowout could create an even bigger environmental disaster than the Exxon Valdez tanker spill.
Fund managers and analysts in the City (London) said they were deeply worried about the financial cost to BP of the kind of legal action that could be taken in the US by those damaged by the accident.
Over £15 billion has so far been knocked off BP's stock market value since the Transocean (NYSE:RIG) Deepwater Horizon rig caught fire and the latest dive in value came after it acknowledged the amount of oil leaking from sub-sea wells could be 5,000 barrels a day, five times more than previously thought.