Argentine Supreme Court Judge says Botnia Pickets are "Illicit, but not Illegal"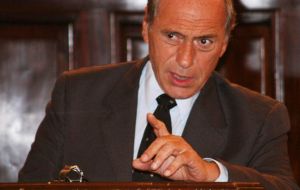 An Argentine Supreme Court Judge has said that the pickets blocking an international bridge linking neighbouring Argentina and Uruguay to protest the construction of a pulp mill on the Uruguayan side are "illicit but not illegal".
Judge Eugenio Raúl Zaffaroni said he didn't consider the current roadblocks against the Botnia paper mill " to be illegal, but illicit," and highlighted that in case of economic damage, those responsible "could be sued."
The judge explained that their protest became "illicit" ever since Argentine and Uruguayan authorities took the matter to the International Court of Justice, which ended in the recent ruling. "Ever since the two governments started looking into the matter and took it to court, the roadblocks became illicit. And by that I don't mean it's a crime, but it is still unlawful," he remarked.
Gualeguaychú pickets have been blocking the bridge head leading to Uruguay since 2006. A recent International Court of Justice ruling said the pulp mill does not contaminate—according to current parameters—and pointed out that Uruguay did not commit major breaches of the bilateral 1975 treaty for the joint management of the River Uruguay.
The judge then explained that if roadblocks created some kind of economic damage, those responsible can be sued "in order to obtain some sort of financial reparations". "Even though street protests are close to being illegal, sometimes they are the only way people who can't make it to court have of being acknowledged by government officials," he explained.
Zaffaroni concluded by stating that there's no law against street protests and they are usually considered to be a non-serious infringement due to them affecting other people's rights.