Japan Issues Arrest Warrant for Head of Anti-Whaling Sea Shepherd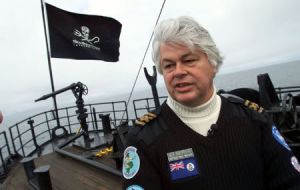 Japan's Coast Guard has obtained an arrest warrant for the head of the Sea Shepherd Conservation Society, accusing him of ordering members of the protest group to obstruct the Japanese whaling fleet, investigative sources said Friday.
The Japan Coast Guard obtained the arrest warrant against Paul Watson, founder and president of the anti-whaling group, on suspicion of assault and obstruction of business. The move is the latest in Tokyo's increasingly aggressive campaign against the radical conservationists, who are being accused of endangering lives during the annual Antarctic whale hunt.
US-based Sea Shepherd Conservation Society has long insisted that the Japanese fleet is conducting banned commercial whaling under the guise of scientific research. The Japanese authorities will put Watson, 59, on the international wanted list through Interpol, the sources said. His arrest, however, appears unlikely unless Watson steps foot in Japan.
The sources said authorities are likely to ask the international police agency to only issue a blue notice—a request for police in member countries to provide information about an individual's whereabouts and activities—rather than a red notice, which requests arrest and extradition, they said.
The Canadian national is suspected of ordering Peter Bethune, a New Zealand national and former captain of an anti-whaling vessel, to throw a chemical substance onto a whaling ship in the Antarctic Sea in February and commit other acts of obstruction. Although Bethune was the only one directly engaged in the acts, the Japan Coast Guard decided to ask Interpol to place Watson on its wanted list because Bethune said during the investigation that he was acting under the orders of the Sea Shepherd chief.
Watson said in a telephone interview Friday that the move by Japan does not concern him. "It is clearly a politically motivated arrest warrant. The Japanese Coast Guard hasn't bothered to interview the captain of the (Japanese whaling ship) Shonan Maru No. 2 [...] it's not an investigation into an infraction," he said. "Japan is doing everything they can to stop us going down to the (Antarctic) Ocean next year," he said.