Uruguay Pushing for an Indian Embassy in Montevideo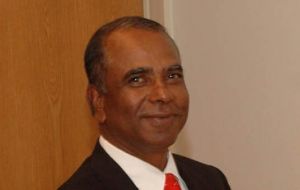 Uruguay is pushing for a full Indian mission in its capital Montevideo, showcasing the country as the gateway to the region and to expand bilateral trade and economic relations, according to New Delhi reports.
"It will help very much to have an Indian embassy in Montevideo. We have been here in New Delhi now for 12 years ago—since 1998. And earlier to that we were present from 1960 to 1975," Uruguayan Ambassador Cesar Ferrer said. "So, in 50 years of diplomatic relations with India, we have had Uruguayan Embassy in Delhi for 27 years. But India has only an honorary consulate in Montevideo. We will like a full mission," Ferrer told IANS.
At present, career diplomat R. Viswanathan is India's Ambassador to Argentina, Uruguay and Paraguay since Oct 10, 2007, and is based out of Buenos Aires.
According to Ferrer, even though Uruguay may not be a large trading partner for India, the potential is immense, especially since the country has large tracts of cultivable land, is the seventh largest rice exporter in the world and is an important financial centre. "Our fertile lands can be tapped to secure food supplies."
India's net exports to Uruguay were valued at 47.5 million US dollars in 2009, while it imported goods worth 10.5 million USD. Trade with Latin America as a whole was 15 billion, with exports from India valued at 5.8 billion and imports at 9.2 billion.
The ambassador said Uruguay also has the first and only free port in South America at its capital city, which offers huge warehousing capabilities. This makes the country a key logistics hub enabling distribution of goods to other South American nations.
Ferrer added that since Uruguay is a full member of Mercosur, Montevideo is the natural gateway to the region, promoting free flow of trade, goods, people and currency. The secretariat of Mercosur is located in Montevideo. India has also shown an active interest in closer links with Mercosur.
"We now have the Mercosur-India preferential trade. So our engagement is bound to rise. We are building on the framework of a strong political, diplomatic relationship," said Ferrer. "That's why I am saying, if you want to diversify and have a larger presence in Uruguay, an embassy is very important. In Montevideo we have embassies of very far away countries: China, Iran; why not India?"