Aftermath of Ash Cloud: Clogged Airlines Air Conditioning Systems, Warn Experts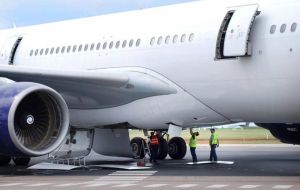 Airlines may not have seen the last of the ash cloud crisis, experts said on Sunday. The impact of ash on aircraft air-conditioning systems could be serious, warned aviation lecturer Stephen Wright of Leeds University.
Planes will be "hoovering up" the additional ash and this could lead to airplanes having to make unscheduled or emergency landings, Mr. Stephen Wright added. He went on: "Sometimes dirt levels are so high (air conditioning) systems are having to be changed after just three to four months, whereas they're expected to last around 18 months. The planes will now be sucking up ash as well which will put these systems under very high stress."
He said low concentrations of ash were deemed low risk by the UK Civil Aviation Authority as they had minimal effect on airline engines. But air-conditioning cooling systems filtered all dirt out, so there would be a cumulative build-up even when low levels of ash are present.
Mr. Wright said: "Once the air-con unit is clogged up, it is less effective and so tries to work harder to maintain pressure and temperature, and so begins to overheat."
"The systems have built-in safety controls, so they're unlikely to catch fire. However, overheating will mean pilots have to shut down the affected system, and as this provides fresh air to the cabin, the loss will normally result in either an unscheduled or emergency landing. At the very least, the air industry will be looking at much higher maintenance on these systems to keep them working, at a time when the grounding of planes has put them under severe financial pressure."
Plane passenger watchdog, the Air Transport Users Council (AUC), called on airlines to make it easier for passengers to claim their money back following the ash-cloud crisis. The AUC said it had carried out a survey of the websites of a sample of major UK and international carriers.
The council went on: "We found that with many websites, instructions on how passengers can go about claiming for their expenses, and also on how to get a refund of a ticket if they did not travel, are either tucked away in a section of the site that can be difficult to find or are not there at all. We are pleased that most airlines have now committed to reimbursing the out-of-pocket expenses of passengers while they were waiting to get home."
"But passengers need to know how to go about getting their money back. We therefore call on airlines, as a matter of urgency, to provide a link to information on how to claim their money back from the home pages of their websites."