Almost Half of 43.7 Million Colombians Live Below the Poverty Line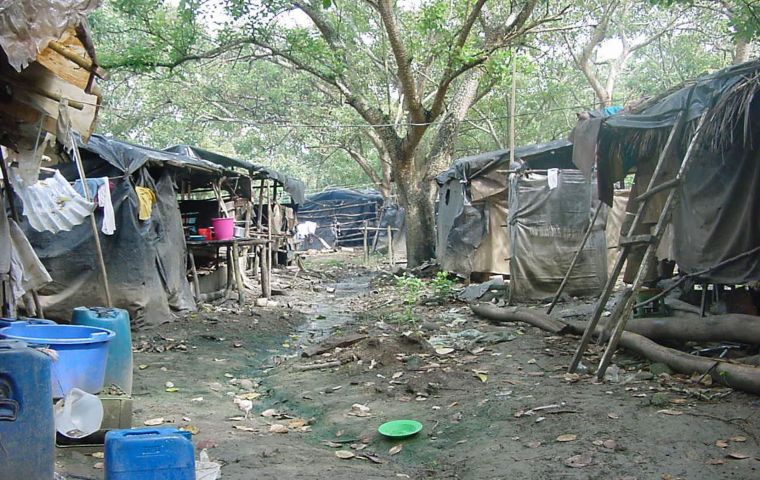 More than 20 million Colombians, 45.5% of the population live below the poverty line and 16.6% suffer extreme poverty, according to an official report released by the country's statistics agency, DANE. The country's total population is 43.7 million.
The study revealed that the percentage of Colombians who lived below the poverty line in 2009 was 45.5%, down slightly from the 46% of 2008, despite a decrease in average per capita income of households. According to the National Administrative Department of Statistics (DANE), people in Colombia are considered poor when their monthly income is less than 281,384 Col pesos (143 USD), and indigent or destitute when they earn less than 120,588 Col Pesos (61 USD).
The average Colombian household earned 560,409 Colombian pesos (287 USD) last year, a 2% drop on the previous year when average earnings stood at Col pesos 570,258 (292 USD). The government said, however, that half a million Colombians came out of extreme poverty in 2009. In February, the Colombian government announced a state-funded program to help 1.5 million families out of extreme poverty.
The largest reduction of poverty recorded in a major metropolitan area was in Bucaramanga, where the rate fell from 24.7% in 2008 to 18.5% last year. The city with the highest percentage of poverty is Manizales with 45.4%.
As poverty rates in Colombia declined slightly, the gap between the rich and the poor also narrowed. The Gini coefficient, which measures the inequality of wealth distribution, fell to 0.578 in 2009 from 0.589 in the previous year.