A Rousseff Administration Would Continue with Lula da Silva's Economic Policies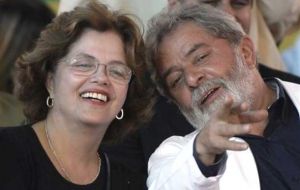 Brazil's ruling coalition president candidate Dilma Rousseff will continue with the current economic policies of the government boosting the role of state corporations if successful in the coming October election, said José Eduardo Dutra, president of the Workers' Party.
José Eduardo Dutra also discarded any major budget cuts or direct intervention in the exchange market with the purpose of having a targeted rate for the Real, if Dilma Rousseff becomes Brazil's first woman president.
Government finances will be closely monitored, but the budget is not one of the main issues of the Brazilian economy, added Dutra, a former chairman of the government managed oil corporation Petrobras, who left the job last February to take over as president of the Workers' Party and be fully involved in the electoral campaign.
During this year's first quarter, Brazil recorded its largest consolidated primary budget deficit in eight years because of a considerable increase in social security layouts and government spending. The primary budget surplus is closely monitored by foreign investors because it is considered a most valuable indicator to gauge the capacity of a government to honour sovereign debt.
Ms. Rousseff's main rival, former governor of the state of Sao Paulo, Brazil's power house, belonging to the opposition Brazilian Social Democratic Party (PSDB) has promised fiscal austerity and greater government efficiency in managing public investment and infrastructure financing. José Serra—according to the latest public opinion polls released by the local media—leads comfortably in vote intention with a ten points lead over Ms. Rousseff.
Meanwhile, an opposition party presented yet another claim before an electoral court accusing President Lula da Silva of "advancing" the October presidential campaign to bolster Ms. Rousseff. The claim was presented by the Democrats Party and refers to a recent political rally organized by by the Unified Workers' Central (Central Única dos Trabalhadores, CUT) during the celebration last Saturday of International Workers' Day.
At the rally, President Lula da Silva made a brief review of his almost eight-year administration and progress achieved by the working classes, adding this would only be continued if his work "has a sequence". "Dilma have your heard what I said? Sequence, Dilma", said Lula da Silva from the stage according to the claim presented before the court, which means "the president made of Workers Day, in an electoral year, a political rally in support of candidate Rousseff".
Lula da Silva has been fined twice for similar interventions earlier this year by electoral officials and another four claims are waiting for a judgement. Brazilian president attorneys have appealed all rulings.