Brazil "Blackmails" Paraguay to Approve Venezuela's Mercosur Annexation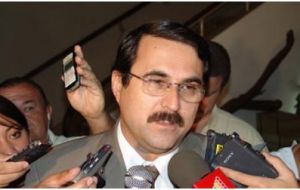 Paraguayan opposition and media strongly criticized Brazilian president Lula da Silva's for not keeping his Itaipú dam-controversy promises and allegedly for conditioning further assistance to the approval by the Paraguayan congress of Venezuela's incorporation to Mercosur.
Brazil and Paraguay have a long standing dispute over power prices and marketing from the world's largest operational hydroelectric complex, Itaipú. Paraguay is claiming a fairer price for its share of surplus power (the country only consumes 5% of that total) and the possibility of selling its share in the Brazilian energy spot market.
Brazil argues the Itaipú treaty, dating back to 1973, can't be reviewed until 2023, but President Lula da Silva has partially accepted some of Paraguay's demands. This was agreed last July, pending Congressional approval, but it's an electoral year in Brazil which makes it even more up road for Lula da Silva, an outgoing president. Furthermore, Lula da Silva and Brazilian corporations are insistent in the approval of documents for the incorporation of Venezuela as full member of Mercosur.
Paraguay is the only of the four full members that has yet to comply, and the local congress is in no mood to consider the issue, because there is strong resistance and criticisms of President Hugo Chávez "non-democratic authoritarian" style of government, but even more significant, the coalition which two years ago enshrined Fernando Lugo as president has splintered and the former bishop leads a minority government with limited congressional support.
All attempts to consider the Venezuela Mercosur incorporation issue have been withdrawn to avoid embarrassment.
The situation was made even worse following the latest meeting of the two presidents in a Brazilian border town Army barrack, where Lula da Silva told President Lugo that the financing of the promised 500 kW high voltage line from Itaipú to Asunción, the capital, (exposed to recurrent brownouts) will not be financed by the Brazilian government as promised last July, but with "cohesion" or "structural convergence" funds from Mercosur. Similarly with a bi-national bridge promised last July.
This will inevitably require the consensus from the other Mercosur full members and obviously the Venezuela card will be played strongly. Plus the fact it is not sure whether the Mercosur convergence fund has the sufficient resources for the promised investments involving over half a billion US dollars. The annual input from the four members to the fund is 100 million US dollars.
"This is a clear example of international blackmail from Brazil. This is to put pressure on Paraguay and this is intolerable: nobody can condition the construction of a power line to a Senate vote" said Hugo Saguier Guanes a recognized Paraguayan political analyst and for decades a reference of his country's diplomacy.
Carlos Mateo Balmelli a former Paraguayan manager of Itaipú said that "the country did not achieve what was expected from this last meeting of Lugo with Lula da Silva." He added that Paraguayan diplomacy "committed a big mistake by not making a follow up of the July agreement and now we have the consequences".
The promise to build the power line to Asuncion with Mercosur structural funds "is a joke and evidence of irresponsibility" said Vice President Julio César Franco who recalled that "it is the Senate that will decide on the Venezuelan incorporation". Besides, Brazil signed an accord and "must honour what it signed".
As to the Mercosur incorporation of Venezuela, Franco said that "Chávez is an authoritarian leader, he persecutes people, punishes opponents and the press and is involved in an arms race, I don't think he's an ideal member for Mercosur".
"We are not going to allow the Venezuela of Chávez to become part of Mercosur", said Senator Julio César Velázquez. "This is an almost unanimous position in Congress", he added when asked about a possible "blackmail" on the Venezuela vote.
In its main editorial the influential Asunción's ABC Color refers to the last Lugo-Lula da Silva summit as "a complete failure of Paraguayan diplomacy" and underlined the "candidness and lack of experience in foreign affairs" of President Lugo. Particularly since President Lula da Silva "always promises but few times or never, does he honour" commitments. "This as we know is part of Paraguayan history when Brazil is involved".
President Lula da Silva who leaves office next January first has promised to visit Paraguay twice in the coming months: for the beginning or works in the power line and for the founding stone ceremony for the bridge.