Fresh Volcanic Ash Cloud Delay Hundreds of Flights in Scotland and Ireland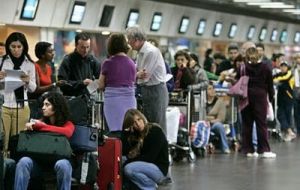 Thousands of passengers are facing long delays after airports in Scotland and Ireland closed because of a fresh cloud of volcanic ash from Iceland. Flights have been grounded in Glasgow, Prestwick and Derry since 0700 BST, while the airspace over Dublin, Belfast and Edinburgh has also since closed.
United Kingdom's Civil Aviation Authority (CAA) advised passengers to check with airports before travelling. Last month, ash clouds from the same volcano grounded flights for six days. The situation in the skies has been changing hour by hour and the no-fly zone will be re-assessed by the CAA after 1800 BST.
In Scotland, Aberdeen Airport has flights arriving and departing as normal and business resumed at Inverness at 1300 BST. Ryanair (NASDAQ:RYAAY) has cancelled all flights to and from Belfast, Derry, Edinburgh and Prestwick airports. Flybe has cancelled all flights to and from George Best Belfast City, Glasgow and the Isle of Man. All flights to and from Edinburgh with a departure time before 1900 BST have also been cancelled.
EasyJet (LON:EZJ) flights to and from George Best Belfast City, Belfast International and Glasgow have been cancelled between 0700 BST and 1800 BST. Forecasts show the 60-nautical-mile buffer zone imposed around high concentrations of ash is close to some airports in northern England.
The CAA said: "The situation remains changeable, so passengers expecting to travel today and tomorrow from airports in Scotland, Northern Ireland, the North West of England, Wales and the West Country should contact their airlines to check whether their flight is operating." It said the latest information from the Met Office showed the ash cloud continued to move south and change shape, adding that airports in south-east England were unlikely to be affected.
BBC meteorologist Matt Taylor said the situation was likely to improve on Thursday. "For the rest of today the largest concentrations of ash will remain over parts of western Scotland and Ireland," he said. "However, through tomorrow as winds go more north-easterly the ash cloud is expected to be pushed out over the Atlantic and clear of the UK."
Some flights to and from Dublin Airport on Thursday have already been cancelled. On Tuesday, flights in and out of the Irish Republic, Northern Ireland and Scotland's Hebrides were suspended at the first sign of an increase in volcanic ash levels.
Flights over Europe were banned last month because of fears the volcanic ash could damage plane engines. The decision to lift the restrictions followed safety tests that showed the engines could cope in areas of low-density ash. The fresh disruption on Tuesday came as European Union transport ministers met in Brussels to agree measures they hoped would help prevent further disruption to air travel as a result of volcanic ash.
The steps include speeding up current plans to integrate Europe's airspace, creating a "single European regulator for a Single European Sky". The meeting came after criticism from the airline industry that governments took an over-cautious approach to April's ash cloud crisis and grounded flights unnecessarily.