France Warns EC on Possible Resumption of Negotiations with Mercosur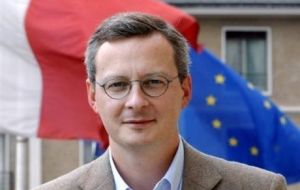 After the European Commission proposed the resumption of negotiations with Mercosur, France released a warning message to the European Commission and assured that—if the talks are reactivated—both French and European agriculture would be in danger of a potential damage.
Through a communiqué, French Minister of Food, Agriculture and Fishing, Bruno Le Maire and French Minister of State for foreign trade Anne-Marie Idrac highlighted: "The European Union cannot resume its negotiations with the Mercosur bloc for being in risk of damaging European and French agriculture."
Both officials reminded the European Comission that the concessions the Europeans had provided the Mercosur within the framework of the Doha Development Round—the current trade-negotiation round of the World Trade Organization—in 2008 were "limited ones and that benefited Mercosur countries."
Both Idrac and Le Maire also pointed out that the in July 2008, when the concessions were offered, the European Union had stated that "going beyond the limits imposed would harm the Common Agricultural Policy (CAP)."
France's official stance appears on the spotlight several hours after the report was launched and after the main French agricultural organization, the National Federation of Agricultural Workers' Unions, asked President Nicolas Sarkozy to exert pressure on the European Commission for it to acknowledge the fact that resuming relations with Mercosur would "bring about several problems for the European sector."
Afterwards, the EC acknowledged that an EU-Mercosur approach would cause livestock and agricultural losses for the European region through a non-official communiqué. Spain is posted as one of the countries to be hit the most.
Taking into account that Mercosur-European Union relations had been stagnant since 2004, the EU announced the negotiations were to be resumed for it considered "that an eventual pact could generate economic benefits for both parts."