Oil Exploration Data Indicates the First Oil Discovery in the North Falklands Basin.
Thursday, May 6th 2010 - 13:45 UTC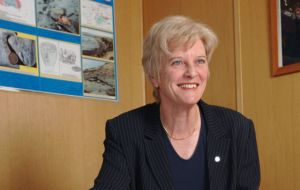 In a press release from Rockhopper Exploration (LON:RKH), the company says "the North Falkland Basin oil and gas exploration company, is pleased to announce that well 14/10-2 on the Sea Lion prospect has reached a depth of 2,744 metres."
"Initial data collected indicate that this well is an oil discovery, which would be the first in the North Falkland Basin," adds Rockhopper Exploration (LON:RKH) in the comuniqué. "The company has run a suite of wireline logs and logging data collected thus far indicate that the well has encountered a 150 metre gross interval of sand and shales. The data show that the well has 53 metres of net pay distributed in multiple pay zones, the thickest of which has a net pay of 25 metres. These pay zones have an average porosity of 19%."
Rockhopper now intends to collect additional logging information prior to making a decision whether to plug and abandon the well, or to suspend the well for future testing. It is also considering whether to drill an appraisal well on Sea Lion later during the current drilling campaign. It remains the intention of the company to drill the Ernest prospect in the fourth slot of the overall Falklands drilling programme.
Samuel Moody, Managing Director, commented: "We are extremely excited by the results of this well. While we are presently acquiring additional data, current indications are that we have made the first oil discovery in the North Falkland Basin. "We will now focus on analysing in more detail the data gathered from the well, in addition to continuing preparations for the drilling of our Ernest prospect later in the year."
Director of Mineral Resources Phyl Rendell told MercoPress, "We are really very very encouraged by the news. It is early days but good news for the Falkland Islands and we hope it will result in continued activity in the area and increased confidence."
Member of the Falkland Islands Legislative Assembly Emma Edwards was also buoyant about the news, "It's very exciting and the news is likely to boost confidence in the industry in the islands. Congratulations to Rockhopper and for the great effort they have put in. We wish equal success to the other companies exploring in the Falklands. We look forward to receiving more information in due course. This bodes well for the long term future of the Falkland Islands hydrocarbons industry."
A number of Islanders have shares in the exploration company.
By Lisa Watson – SeAledPR – Stanley