ECB Leaves Euro Policy Unchanged; European Leaders Set to Approve Greek Rescue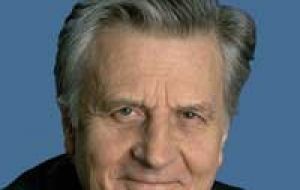 European Central Bank president Jean-Claude Trichet faced down pressure for new moves to shore up the weakest Eurozone countries, but kept options open even as he said Spain and Portugal were "not Greece".
As the Euro dropped to new lows on Thursday amid fears of sovereign debt contagion in the Eurozone, Mr. Jean-Claude Trichet sought to boost the €110 billion European Union (EU) / International Monetary Fund (IMF) rescue of Greece by saying he saw no danger that any Eurozone country would default on its debt.
His remarks failed to calm investors, as Spanish and Portuguese bond yields rose, stocks fell and the cost of insuring against sovereign default increased. The Euro sank as low as 1.2681 US dollars, its weakest level for 14 months. The "spread" or premium that investors demand to hold Spanish 10-year debt instead of German bunds rose to 1.61 percentage points, the highest for 13 years.
Madrid paid a yield 0.716 percentage points more than nine weeks ago when it sold €2.35 billion in five-year bonds, the most since 2008. Markets had hoped for a signal after the regular European Central Bank Governing Council meeting that the bank would buy government bonds to relieve pressure on the weakest eurozone countries.
Although Mr. Trichet did not express any view on the merits of such a move, he said the bank's policymakers did not even discuss this Thursday. At their meeting, in Lisbon, they left the bank's core interest rate steady at 1%, an historic low. Mr. Trichet called for bold moves from other Eurozone governments to restore order in their public finances.
"We call for decisive actions by governments to achieving a lasting and credible consolidation of public finances." His stance on Spain and Portugal was that their fiscal problems are in no way as serious as those in Greece.
However, the European authorities have acknowledged the gravity of the tensions in markets. "It doesn't touch Greece alone. It has to do with the Eurozone as a whole," said economics commissioner Olli Rehn. "We have to make sure we can stop that fire so it won't spread to other countries as well."
German Federal Minister of Finance Wolfgang Schäuble described the turmoil as a "fundamental crisis" with the Euro stability at stake, but ruled out any restructuring of Greece's debt. "If we were to have a debt restructuring, then we would have—and we are all saying this—exactly the kind of conflagration that we could no longer control."
The leaders of the 16 Eurozone countries are set to review the latest outburst of market turmoil when they gather in Brussels Friday to definitively endorse the Greek rescue. In advance of the summit, German Chancellor Angela Merkel and French President Nicolas Sarkozy called for reflection on the role of rating agencies in crisis propagation following a move decision of rating agents Standard & Poor's to downgrade Greece before the rescue deal was finalised.
The leaders are likely to express strong support for Greek Premier George Papandreou at their emergency summit, which comes a day after the Greek parliament's adoption of the austerity plan tied to the loan fund.