French Navy Locates Black Box from Air France that Plunged into the Atlantic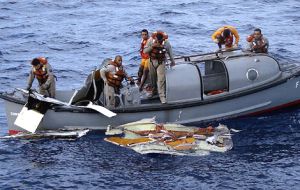 The French navy has located the black box flight recorders from the Air France (EPA:AF) jet which plunged into the Atlantic killing 228 people last summer. However, officials said there was still no guarantee the recorders—that could explain the cause of the crash—would ever be brought to the surface.
Air France Flight 447 en route to Paris went down off the coast of Brazil on June 1 last year. A search performed after the accident found several chunks of wreckage and 50 bodies, but the reasons behind the crash have never been fully explained. The black boxes have now been located with a "margin of error" of three nautical miles, more than 700 miles off Brazil's north-eastern coast.
They are fitted with locater beacons, known as pingers, which transmit an electronic pulse every second—but only for around 30 days, before their battery runs out.
France's eputy Defense Ministry spokesman General Christian Baptiste said: "It is in no way certain we are going to retrieve the black boxes because they are no longer not giving off a signal and the zone where they are is very rugged terrain."
There were also doubts over whether vital information on the boxes has been preserved after almost 12 months underwater, the Defense ministry said.