Brazil's Bovespa Confirms Biggest Weekly Decline since February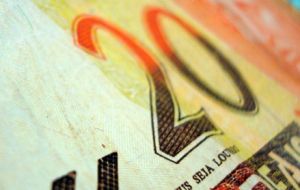 Brazil's Bovespa stock index fell for a second day on Friday closing with the biggest weekly decline since February 2009, on concern that Europe's debt crisis is worsening and rescue packages could have to be extended to Portugal and Spain.
"Investors are reducing their exposure to risk," said Eduardo Favrin, who oversees about 2.5 billion in stocks as head of equities for HSBC Global Asset Management's Brazil unit in São Paulo. "People are afraid of contagion from Greece to other countries, Ireland, Portugal. But the damage is going to be more contained here than in other economies".
Global stock markets tumbled for the second straight day as investors speculated that the bailout of Greece won't contain Europe's fiscal crisis. In Brazil, inflation grew more than forecast on soaring food costs, a sign the economy may be overheating.
The Bovespa index dropped 0.9% to 62,870.88. Forty- seven stocks fell, while 19 rose. The three-month low extended its drop in the past month to 12%, and the Real gained some of the ground lost on Thursday. The Real ended at 1.8485 to the dollar after ending at 1.8600 to the dollar on the Brazilian Mercantile and Futures Exchange on Thursday. Traders noted the currency began Friday's session stronger after a steep sell off of local assets in the previous session prompted by a global risk aversion over negative public reaction in Greece to a severe austerity package.
Central Bank of Brazil, meanwhile, continued ongoing efforts to weigh in against a strengthening local currency, buying an undisclosed quantity of dollars in a spot-market auction at a rate of 1.8467 to the dollar.
Brazil's consumer prices accelerated beyond the government's 4.5% target in April said the official statistics office. Brazil's prices as measured by the benchmark IPCA index rose 0.57% in April from March with a twelve month inflation of 5.26%.