Serra Wants Mercosur With Member Vote Linked to GDP and Population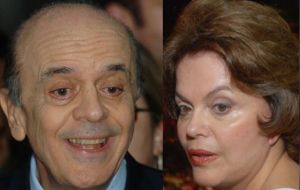 Leading Brazilian presidential candidate José Serra said it was "very good" for his campaign that Venezuela's leader Hugo Chávez should openly support his main competitor incumbent hopeful Dilma Rousseff and again warned about the shortcomings of Mercosur.
"I want to say something, I think it's great, very good for me that (Hugo) Chávez should support Ms. (Dilma) Rousseff," said José Serra talking to Brazilian reporters in Rio Grande do Sul, but warned that this is not positive for Mercosur "because his incorporation would only weaken and discredit Mercosur."
Serra said that "as we all know, this gentleman likes to persecute and shut down all media that does not support him. Let us not forget also that Mr. Chavez could have won many elections but his debut in politics was as leader of a bloody military coup," underlined Serra. "Only later was he elected".
The opposition candidate that leads in public opinion polls went further and said that "not reforming or reviewing Mercosur endangers its very existence. To admit a new full member in Mercosur for political reasons is simply not believable and not acceptable".
Serra also insisted that the voting system inside Mercosur had to be reviewed. "In the European Union, with a long experience of integration, the country with the largest GDP and most population has a greater participation in the voting scheme; on the contrary in Mercosur all members have the same vote." This limits Brazil's international trade policies and "must be reviewed." Imagine "if Venezuela finally makes it into Mercosur—which is madness—it would have the same vote as Brazil; it's quite senseless," said Serra.
The former governor of São Paulo said that Mercosur should aim to become a free trade zone, (instead of a common market) but gave to timetable to achieve such a goal.
Finally, he said that he does not consider himself as an opposition or a pro-government candidate. "I consider myself as a candidate for the future of Brazil," indicated Serra in reply to his promise, if elected president, to retain some of President Lula da Silva's programs.
"Politics is not Flu-Fla or Internacional-Gremio or São Paulo-Corinthians," he emphasized in reference to the traditional soccer rivalry of the main teams in the cities of Rio Do Janeiro, Porto Alegre and São Paulo.